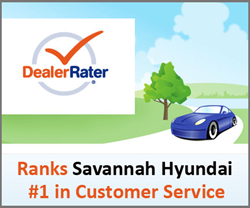 'The best part of our job is seeing a customer drive away satisfied.' -- Mark Medinger, Savannah Hyundai Owner
Savannah, Georgia (PRWEB) May 01, 2014
According to DealerRater's Consumer Rating Index, Hyundai Motor America's dealerships are ranked the highest in customer sentiment and satisfaction! Savannah Hyundai has an overall rating of 4.6 out of 5 on dealerrater.com. "We pride ourselves on great customer service and friendliness," said Mark Medinger, owner of Savannah Hyundai. "It's our first priority."
Savannah Hyundai is in good company. According to DealerRater, "From more than 300,000 verified reviews gathered during a 12-month period, Hyundai customers ranked their dealership experience higher than any other mass-market brand," said Gary Tucker, CEO, DealerRater. Hyundai has received the most praise for the high-quality service work and friendliness of staff.
"We commend Hyundai for delivering increased transparency for consumers by proactively soliciting customer feedback on all sales and service experiences, paying attention to online reviews, and evaluating their business practices based on customer feedback," said Tucker.
About DealerRater
DealerRater was founded in 2002 as the first car dealer review website. Unlike sites like Angie's List, consumers do not have to pay to review dealerships or to see the ratings. DealerRater ranks nearly 41,000 U.S. and Canadian car dealers. It has more than 1.4 million consumer reviews. DealerRater catches the attention of more than 10 million consumers each year that visit the site to search for car dealerships, read reviews, write their own descriptive reviews and find the best car deals.
What's Unique about Savannah Hyundai
Savannah Hyundai is only one of the more than 820 national Hyundai dealerships. Savannah Hyundai is unique in that it is the flagship Hyundai dealership in Georgia. "We have the ability to keep our customers satisfied and connected. We offer a full service department that is quick, accurate and friendly," said Mark Medinger, "The best part of our job is seeing a customer drive away satisfied."
According to one review about Savannah Hyundai on DealerRater, "The entire dealership could not be more friendly and accommodating. [The service team] also informs me of things going on with my vehicle that I would never be able to keep track of on my own. I will continue to bring my Veloster here for service for the lifetime of its ownership and then most likely buy another Hyundai from the team when I am ready for a new vehicle."
If you are in the market for a new Hyundai, stop by the showroom or schedule a test drive. We cater to folks all over the area in Rincon, Statesboro, Bluffton, Fort Stewart, Hinesville, and Savannah!