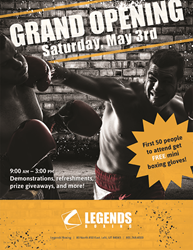 Lehi, Utah (PRWEB) April 30, 2014
Who: Legends Boxing, a gym dedicated to fun and fitness through boxing (http://legendsboxing.com/) …
What: will celebrate its grand opening with live boxing demonstrations, refreshments, fantastic prizes, and more. The first 50 people to attend will receive free mini boxing gloves …
When: on Saturday, May 3rd from 9 a.m. until 3 p.m. at…
Where: the new Legends Boxing gym in Lehi, Utah at 80 North 850 East.
How: Legends Boxing Fitness classes are step-by-step lessons that take the participant through boxing fundamentals. This fun, intense, and exciting program is a great opportunity to learn new skills and get into top physical condition. Each class offers a different workout structured around boxing fundamentals including conditioning, speed, and strength exercises. Legends Boxing has boxing for all ages, as well as co-ed and women's classes.
Notes:
Legends Boxing, a Utah company, was founded in 2011 by entrepreneur Rob Scott. Scott created Legends Boxing because he felt that the workouts typically associated with boxing would be a huge benefit to those who want to get into amazing shape, relieve stress, and empower themselves while learning a valuable skill. The company started with just one trainer and now has four with expansion projected in the near future. The new Legends Boxing location will help to facilitate this expansion in addition to creating an enhanced atmosphere for the company's growing customer base. Currently, the company is run by Andrew Scott and Kade Fullmer, both longtime and incredibly skilled boxers.
###
Contact:
Biting Dog Communications
Kate Conrow
PR/Social Media Manager
801-930-5354
Kate(at)bitingdogpr(dot)com