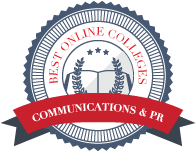 (PRWEB) April 29, 2014
BestOnlineColleges.org is a pioneer in online educational resources for students. We seek to help students during their college search by providing an analysis of what degree paths are available to them, with an emphasis on distance learning. By combining educational data with surveys and academic resources, we evaluate and rank the best places in the U.S. for online degree programs of all subjects.
Communications is among the top ten most popular majors today. Online communications and public relations bachelor's degree programs in particular are becoming increasingly important as companies in almost all fields are looking for people who can communicate effectively across web-based platforms. Studying communications or public relations through an online degree program is not just a viable option--it's the best option. Graduates with communications or public relations degrees can pursue careers in fields as diverse as business, healthcare, nonprofits, and government. Analysts are predicting that the demand for public relations jobs, in particular, will increase steadily in the coming years.
For this reason, BestOnlineColleges.org has compiled and analyzed data from the National Center for Education Statistics (NCES) in order to create a thorough list of the 2014 Best Online Communications and Public Relations Degree Bachelor's Programs. The list integrates detailed insight into the enrollment, retention, and graduation rates of each program in addition to special consideration into the breadth its specializations. There are 20 schools on this year's list.
BestOnlineColleges.org's "Best Online Communications and Public Relations Bachelors Degree Programs" can be found at http://www.bestonlinecolleges.org/best-online-communications-and-public-relations-bachelors-degree-programs/. The schools featured are as follows:
American Broadcasting School-Online Program
Central Penn College
Indiana University-East
Jones International University
Lasell College
Lone Star College System
Marist College
Minnesota State University-Mankato
Mississippi College
Mississippi University for Women
Northampton County Area Community College
Notre Dame of Maryland University
Philadelphia University
Southern Utah University
Southwestern College
Spring Arbor University
Tulsa Community College
University of Minnesota-Crookston
Valley City State University
Western International University