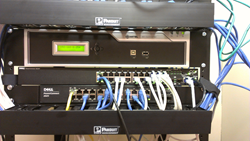 "Our busiest season is coming up and we could not afford the risk of having a massive outage that affected our operations."
Seattle, WA (PRWEB) April 30, 2014
Telecommunications consulting agency, Caisson Technologies this month was hired by printing and promotional products company, Morel Ink to implement Unified Communications (UC) at its business locations across two states.
Through Caisson, Morel Ink purchased a new phone system and supporting network services for its headquarters in Portland, Oregon and its recently acquired printing business in Vancouver, WA.
Caisson vetted different phone systems and services, designed the final solution and negotiated a discounted price. The final solution is a 2 node MPLS connection that unites its Oregon location, which houses three separate businesses, and the Vancouver, WA business.
"Caisson was able to tie together two physical locations with over 30 employees operating four unique businesses with a single communication platform. This is of huge value to us. Caisson got it right." –Bill Dickey, Owner, Morel Ink
"We considered hosted phone systems (hosted PBX) as well as different manufacturers of on-premise systems. Ultimately, we recommended the Mitel 5000 through Integra Telecom because it fit my client's specific business needs." –Brian Wade, President, Caisson
To ensure network redundancy for Morel Ink, Caisson designed two Wide Area Network (WAN) ports for both of its business locations. One port is through Comcast Business and the other is an Integra Telecom MPLS private network that can share Internet across Dedicated 5Mb EoC. Caisson upgraded the company's Local Access Network (LAN) to smart switches as well.
"The average phone system needs to be replaced every 8 – 12 years. Many businesses wait until the system dies before purchasing a new one. In this case, my client saw that its old system was suffering problems. They bypassed a lot of hassle by reaching out to us before the whole system crashed. Being proactive in this way saved them money, too." –Brian Wade
"Our busiest season is coming up and we could not afford the risk of having a massive outage that affected our operations. Caisson's Brian Wade understands network services as well as telecom services, including hardware. That's hard to find. He's our resource for business technology integration." –Matt Witham, Owner, Morel Ink