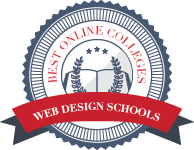 (PRWEB) April 29, 2014
BestOnlineColleges.org is a pioneer in online educational resources for students. A remarkable shift has occurred in America's higher education system over the last few years. While online education was once considered a niche industry, top colleges and universities are now offering online course options as a part of their curricula. This trend has coincided with the evolution of the student profile: tech-savvy, profoundly skilled at multi-tasking, and looking to combine an education with a meaningful life experience. By combining educational data with surveys and academic resources, we evaluate and rank the best places in the U.S. for online degree programs of all subjects.
With the ubiquity of the internet, companies and institutions across virtually all fields need a strong online presence in order to remain relevant. As well as the push for traditional brick and mortar business to grow their online commerce, web designers will increasingly play an indispensable role in any successful business. Job-seekers possessing experience with web design are in high demand. According to the Bureau of Labor Statistics, web design jobs will increase by a robust 20 percent in the next decade.
For this reason, BestOnlineColleges.org has compiled and analyzed data from the National Center for Education Statistics (NCES) in order to create a thorough list of the 2014 Best Online Web Design Schools. The list integrates detailed insight into the enrollment, retention, and graduation rates of each program in addition to special consideration into the breadth its specializations. There are 23 schools on this year's list.
The list of the "Best Online Web Design Schools" can be found at http://www.bestonlinecolleges.org/best-online-web-design-schools/. The schools featured are as follows:
Allied American University
American College of Technology
Bismarck State College
Bossier Parish Community College
DeVry University-California
Florida National University-Main Campus
Francis Tuttle Technology Center
Franklin University
Laramie County Community College
Laurus College
Minnesota State College-Southeast Technical
Nashville State Community College
National American University-Bellevue
North Dakota State College of Science
North Shore Community College
Rasmussen College-Florida
Rio Salado College
Rochester Community and Technical College
Stark State College
Sullivan and Cogliano Training Center
Texas State Technical College Waco
Walters State Community College
Western Wyoming Community College