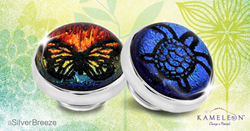 Also available with the new JewelPops are the complementary Kameleon jewelry pieces,
New York, NY (PRWEB) April 30, 2014
A Silver Breeze is now offering the newest JewelPop pieces from the Kameleon brand. The new styles include creative and colorful designs, featuring sea turtles, butterflies, limited edition designs and much more. All JewelPops are made of sterling silver and are adorned with various materials like Swarovski Crystals, colored enamel, Peridot gems and Dichroic glass to add sparkle and flare to these charming pieces. The newest designs are priced starting at $34.00USD.
Also available with the new JewelPops are the complementary jewelry pieces including the new ring, necklace and earring set designs. These sterling silver pieces are precisely crafted to fit all JewelPops. JewelPops can be interchanged between all the Kameleon jewelry pieces to add colour and an individual style to flatter any outfit. The new "Pedestal" ring is priced at $65.00USD, the "Teardrop" pendant at $39.00USD, and the "Twist" earrings at $59.00USD.
For further information regarding products available at A Silver Breeze or to make purchases, please visit a local store or the website at: http://www.asilverbreeze.com.
About A Silver Breeze
A Silver Breeze was founded with a philosophy in mind: give women the freedom to be themselves and embrace a sense of style that's unique and their own. A Silver Breeze offers women quality jewelry that is interchangeable from brands like: Kameleon, Chamilia, Bella Ryann, Lenny & Eva, Chrysalis and Swarovski. You will also find gifts and other accessories from brands like Natural Life, WeWOOD and Bering Watches.
Stores are located at the Aviation Mall in Queensbury, New York and at 516 Broadway in Saratoga Springs, New York. All available collections can also be purchased at the A Silver Breeze online store at: http://www.asilverbreeze.com. A Silver Breeze ensures every customer's shopping experience to be an unforgettable one.