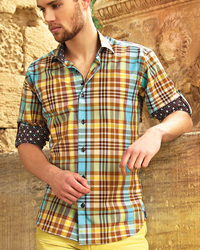 Fashion-Shirts.com - Where the modern, fashionable man shops.
Conshohocken, Pennsylvania (PRWEB) May 05, 2014
Fashion-Shirts.com is redefining what it means to be a modern, fashionable man. It is the exclusive North American retailer for Franck Michel and one of the few places in North America you can find Bertigo, Maceoo, Via Uomo, Vice69 and Jared Lang. From the red carpet and world's finest nightclubs to a day at the office or the beach, Fashion-Shirts.com always has the perfect shirt to fit the occasion at an unbeatable price.
For the fashion-forward man who likes to stand out there is a large selection of Via Uomo dress shirts, with vibrant, eye-catching hues, European tailoring, and intricate detailing that give an aura of effortless elegance. If you are an Italian or French expatriate who is looking for the superb level of quality and tailoring that is found in European clothing, perhaps a double collared, contrast printed Franck Michel shirt with leather watchband cuffs would be the perfect choice. For the trendsetter, nothing could be more perfect than a limited-edition Bertigo luxury shirt in one of the designer's signature paisleys or prints.
Fashion-Shirts.com's selection is not for the weak of heart or those indisposed to fashion, but still has something that will appeal to every man. It is for the confident man who takes pride in how he presents himself, wherever he may go. For a truly unique look, consider trying the San Diego-inspired, Parisian-made French shirts and polos by Maceoo. The fresh prints, contrasting design work, and unique detailing have turned these shirts into one of the most sought-after labels for summer and spring wear.
To browse the selection of men's luxury dress shirts and fashion-casual wear, simply visit http://www.fashion-shirts.com. Once there, you will be immersed in high-quality, high-style men's fashions and given the opportunity to join the Fashion-Shirts.com rewards program or sign up for the Fashion-Shirts.com newsletter. Find us on Facebook as "Ur Unique", Twitter "@urunique_com" and Google Plus as "+Fashionshirtsonline" to keep up with the newest arrivals, deals, special offers, and men's fashion inspiration.