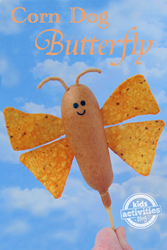 Imagination is essential for kids development.
Dallas, TX (PRWEB) May 14, 2014
Kids enjoy playing with food. A cute corn dog butterfly and fun imagination play ideas have been released on Kids Activities Blog. Dress up the corn dog for lunch today.
Most kids like the corn dogs as they are, but imagine how much more they would like them if they were dressed up to look like butterflies.
The edible corn dog butterfly craft is so simple and the kids can even help turn their plain corn dog into pretty winged insects all by themselves.
Ingredients are corn dogs, triangle shaped tortilla chips, chow mein noodles, and black food color markers. Instead of the markers, ketchup or mustard also work to make the face.
Begin by heating the corn dogs according to the package instructions. Then cut two slits in the back to attach the wings. Poke two holes on the top and insert the chow mein noodles as antennas.
Then, apply a pretty smily face with the food color marker, ketchup, or mustard. After the assembly is complete, reheat the corn dog for a few seconds. Ready is the wonderful meal.
Kids love a chance to use their imagination. It is a vital part of childhood and really lets them explore and create.
Let the child's imagination run free with gallery of play ideas listed on Kids Activities Blog. Building a pretend city out of brown paper bags is one of the ingenious ideas. Making an adventure kit for the kids to play with will ensure hours of imaginative playtime.
Other ideas include making a DIY doctor kit, an easy plastic straw game, and a plastic cup building game to occupy the kids for the afternoon.
Let the kids go an animal rescue mission while pretending to be Dora and Diego. This idea will also help them learn directions. A fun fingerprint matching game can be played many different ways and is fun to incorporate into imaginative spy or detective play.
For detailed instructions and to get additional fun ideas, check out Kids Activities Blog this week. Come get inspired to have a blast together with the kids this week.
About Kids Activities Blog
Kids Activities Blog is a website created by two moms (who collectively have 9 children), Holly Homer and Rachel Miller. Their new book published by Page Street, 101 Kids Activities That Are the Bestest, Funnest Ever! will be released June 10. It is currently pre-selling on Amazon and Barnes and Noble. Kids Activities Blog is an interactive website that publishes fun things to do with kids twice a day. It is an amazing resource for moms, dads, grandparents, caregivers and teachers to find kid-friendly activities that create memories and sneak learning into the fun.