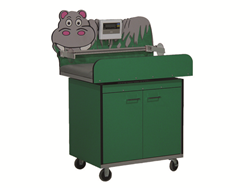 Wright City, MO (PRWEB) May 01, 2014
Goodtime Medical announces the addition of The Hippo 300 Infant Station to the offering of tables. You can weigh and measure at the same time with the stadiometer and the digital scale with speed and accuracy. A large cabinet below with adjustable shelf can store numerous things and can be locked if you desire. In addition Goodtime Medical offers custom exam tables and hospital beds for infant/toddlers, such as The Zebra Exam Table, Jungle Infant Station and our newly released Jungle Pediatric Hospital bed.
Research reveals that specific design changes in healthcare environments can reduce stress and alleviate the consequences of that stress. Alleviating the stress on children in the doctor's office will help the children feel more comfortable, parents more relaxed and give doctors and nurses more cooperative children to care for. This can also help prevent medical errors while improving staff morale and efficiency.
Doctors and nurses agree that these tables make for easier and faster exams. All of Goodtime Medical's customers will tell you that the children and their parents really enjoy these tables. Doctors can tell you that their patients feel more comfortable and they don't realize they are in a doctor's office.
Goodtime Medical is located in Wright City Missouri, just outside St. Louis Missouri and has been in business since 1996. You have seen these tables featured on Two and Half Men and Forgetting Sarah Marshall. For more information about the tables and Goodtime Medical, please visit the website at http://www.examtables.com or call at 888-386-8225.