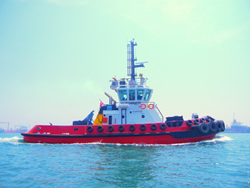 Istanbul, Turkey (PRWEB) May 01, 2014
As the proud owner of three 24m tugs, SMS Towage, the largest independent port tug operator in the UK, is happy to announce the addition of a fourth unit from the Robert Allan design team in Vancouver Canada: the Ulupinar XIII built by Sanmar. The vessel sailed from Turkey for the UK on the 3rd February with an SMS crew on board. On arrival into the River Humber later in the month, the tug was put to work at Immingham.
Some 15 of this exclusive and versatile ASD model have now been built by Sanmar Marine at its facility near Istanbul. However, Yorkshireman, is the immediate predecessor to Statesman (Ulupinar XIV) having been working at the port of Mersin in southern Turkey as part of Sanmar's own fleet.
Measuring 24.40m x 9.15m with a maximum draft of 4.40m, there are a number of power options available on the Ulupinar Series. The SMS preference utilises a propulsion arrangement comprising a pair of Caterpillar 3512 diesels, each developing 1230kW at 1,800 rev/min and driving Rolls-Royce US 155 FP azimuthing thrusters to give bollard pulls, both ahead and astern, of around 50 tonnes and a free-running speed of 13 knots. Winches on both fore and aft decks with brake holding loads of 125 tons supplied by DMT, a Palfinger deck crane and Data Hidrolic tow pins provide comprehensive deck machinery fit-out. The main tow winch has capacity for 600m of 40mm wire.
The clever use of available space and a very high degree of quality ensures that both officers and crew enjoy a level of comfort and convenience rarely found in a vessel of just 24m in length. Remarkably low noise levels have been recorded in all areas of the living quarters and, at approximately 80 per cent engine load, are below 60 dBA in the two single and two twin berth cabins.
About Sanmar:
For almost 40 years, Sanmar has been a leading tugboat manufacturer; building tugboats and workboats and providing tugboat services for their global customers. Sanmar also supports its customers with technical consultancy services by providing recommendations about the tug boat and workboat designs and equipment that will meet the highest standards or their customers' operational needs. Learn more by visiting http://www.sanmar.com.tr/.