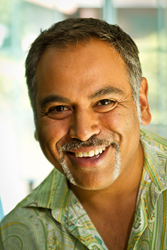 "I Love the creative part working with clients to understand their dreams for their home, then implementing them. The best is Reveal Day when we show the finished product to the home owners." said Wanda Colon, Head Designer at Style My Space
Los Angeles, CA, (PRWEB) April 30, 2014
Kim Kapellusch, Founder and President of Style My Space is thrilled to announce she recently hired Jorge Cambron to work on her Interior Design team. Jorge has a rich history of Interior Design, and a unique gift for his clients in painting beautiful murals and paintings for their homes.
Last year Style My Space grew rapidly in both the staging department and the Interior Design department. Kim hired Wanda Colon on to manage the Interior Design department. Wanda comes with a long history of Interior Design including being an HGTV host for 5 years. Wanda looked for another designer to partner with her and reached out to a designer she has worked with in the past, Jorge Cambron.
As an artist and interior designer Jorge focuses on the owners of the home and looks to incorporate local art and found pieces into his designs. Jorge and Wanda work as an integrated team with the home owners and provide the initial design consult to get the clients visions, needs and budget. After the initial visit Jorge and Wanda develop a Design Board which details color concept of the design, includes what needs to be purchased, style of the project and budget. Once the homeowner approves the design board they get to work. They oversee the entire design development including working with contractors and outside vendors.
Jorge states, "The best part of my job is Installation Day. This is 'reveal day' for the owners. We schedule all the furniture to arrive on one day. Then Wanda and I go in and do our magic by hanging window treatments, art, place new furnishings and accessorize." Jorge continues, "Then we invite the owners in to see their home transformed into the home of their dreams"
ABOUT STYLE MY SPACE was developed in 2005 by Kim Kapellusch. It has grown every year, even through the downturn in the real estate market. As Style My Space grew, Kim's team grew as well as her inventory. Today Kim has 3 people on the staging team and 2 on her Interior Design Team. She has inventory in her warehouse that will allow her to stage up to 40+ houses with her own inventory, lowering the cost to clients.
For more information please call Kim Kapellusch at– 818-726-6429 or visit the website at https://www.facebook.com/StyleMySpace1.