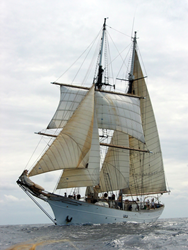 A demonstrated understanding of methods for communicating research results to press and the public is a requirement of the program.
Woods Hole, MA (PRWEB) May 08, 2014
New York City will be treated to a rare sight when the SSV Corwith Cramer, a tall sailing ship operated by SEA Semester/Sea Education Association, visits Pier 25 from May 14 to May 21, 2014. The 134-foot brigantine serves as home, campus and laboratory for 31 crew – including 14 undergraduate students – who, alongside professional researchers, are studying the biodiversity of the Sargasso Sea as part of the SEA Semester: Marine Biodiversity and Conservation study abroad program. The ship's arrival in New York Harbor marks the completion of the final leg of the sailing research voyage that began April 14 in San Juan, Puerto Rico. Members of the press are invited to tour the ship on Friday, May 16, at 10:30 a.m. and hear presentations from SEA Semester faculty and students about research activities and experiences at sea. Press attendance and input at the open ship will be extremely beneficial to the students' work; translating scientific research results for broader impact and public engagement is a required element of the program. In addition to Friday's event, the ship will also be open to the public on Saturday, May 17 from 1:00 p.m. until 4:00 p.m..
While on shore in New York, students and staff scientists with the SEA Semester Marine Biodiversity and Conservation program will meet with representatives with the Wildlife Conservation Society and New York Aquarium to discuss research and data collection efforts, explore policy, and compare methodologies. As part of the twelve-week study abroad program, these fourteen undergraduate students (representing universities from across the country and including two international students and nine women) have formulated science and policy research projects focused on conservation of the Sargasso Sea, a vast expanse of blue water situated in the mid-North Atlantic. Their work parallels and contributes data to a professional and global effort to designate the Sargasso Sea as a "Marine Protected Area." The program will culminate in a symposium on May 29 on the SEA Semester/Sea Education Association campus in Woods Hole, Massachusetts when students will make formal presentations on high seas biodiversity and conservation to members of the conservation and science and policy community, including representatives from The Nature Conservancy, Forest Trends Association, International Union for Conservation of Nature (IUCN), The Sargasso Sea Alliance and Dr. Sylvia Earle from The Sylvia Earle Alliance and Mission Blue.
About SEA Semester
SEA Semester is the leading off-campus Environmental Studies program focused on the oceans. SEA Semester creates environmentally literate leaders who are prepared to address the defining issue of the twenty-first century: the human impact on the environment. The ideal SEA Semester student is highly motivated, passionate about learning, willing to seek out new challenges, and eager to become part of a unique learning community.
Unlike any other study abroad program, SEA Semester includes both on-shore and at-sea components, wherein students spend the first portion of a semester on SEA's campus in Woods Hole, taking courses ranging from ocean science to public policy, nautical science and maritime history. These on-shore courses prepare students for the next portion of the program: sailing aboard one of SEA's sailing school vessels, where, in addition to conducting hands-on, field-based research projects, students also work as members of the ship's crew. Rigorous academics combined with the adventure of sailing aboard a tall ship create a truly one-of-a-kind study abroad program. All SEA Semester programs are accredited by Boston University and offer up to 18 semester credits. While the program is renowned for its excellence in the sciences, all SEA Semester programs are interdisciplinary and welcome students from any major. Students gain valuable experience in other areas, such as leadership training, group dynamics, and team-building: all areas that help students develop into well-rounded, confident, open-minded and contributing members of society.
About Sea Education Association
Sea Education Association (SEA) is an internationally recognized leader in undergraduate ocean education. For more than 40 years and over one million nautical miles sailed, SEA has educated students about the world's oceans through its fully accredited study abroad program, SEA Semester.
SEA/SEA Semester is based on Cape Cod in the oceanographic research community of Woods Hole, Massachusetts and owns two research vessels: the SSV Corwith Cramer, operating in the Atlantic Ocean, and the SSV Robert C. Seamans, operating in the Pacific.