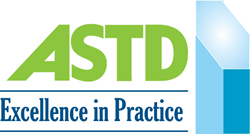 Washington, D.C. (PRWEB) May 05, 2014
During its 2014 International Conference & Exposition held in Washington, D.C., the American Society for Training & Development (ASTD) presented the Excellence in Practices Awards and Citations to 37 organizations from 13 countries: Argentina, Australia, China, France, Hong Kong, India, Korea, the Netherlands, Switzerland, Taiwan, Turkey, United Arab Emirates, and the United States.
ASTD's Excellence in Practice Awards recognizes organizations for results achieved through training and development solutions. Out of 142 submissions, nine awards and 41 citations were given in 10 categories: career development, diversity and inclusion, managing the learning function, integrated talent management, facilitating organizational change, performance improvement, coaching and mentoring, learning technologies, organizational learning and development, and sales enablement. Awards are presented to organizations with proven practices that have delivered measurable and sustained results. Citations are awarded for those practices that show significant promise.
"Winning organizations demonstrate how learning can increase the performance and success of organizations worldwide," says Tony Bingham, ASTD President and CEO. "Their accomplishments advance knowledge of the training and development profession and contribute to increasing workforce capability and organizational competitiveness."
The organizations selected to receive Excellence in Practice Awards are:
Capgemini University, Paris, France
Chailease Finance Co., Ltd., Taipei, Taiwan
Fidelity Investments, Boston, Massachusetts
HCL Technologies Ltd., Uttar Pradesh, India
IBM (International Business Machines), Armonk, New York
MTR Corporation, Hong Kong
Splunk, San Francisco, California
SuccessFactors, an SAP Company, Palo Alto, California
Turkcell Global Bilgi, Istanbul, Turkey
A complete list of Excellence in Practice award and citation winners can be found on the ASTD website, http://www.astd.org.
About ASTD
ASTD (American Society for Training & Development) is the world's largest professional association dedicated to the training and development field. In more than 100 countries, ASTD's members work in organizations of all sizes, in the private and public sectors, as independent consultants, and as suppliers. Members connect locally in 120 U.S. chapters and with 10 international strategic partners. ASTD started in 1943 and in recent years has widened the profession's focus to align learning and performance to organizational results, and is a sought-after voice on critical public policy issues. For more information, visit http://www.astd.org.