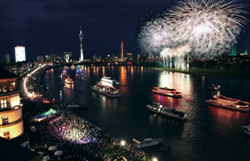 One of the most popular of the many major events held in the region, Japan Day attracts around a million people each year.
Düsseldorf, Germany (PRWEB) May 01, 2014
More than 12,000 Japanese people live in Germany's Rhineland Region in the State of North-Rhine Westphalia (NRW), and 8,200 in the area of the capital Düsseldorf alone. Many work for more than 500 Japanese companies located in the area, and the influence of Japanese culture on life in the city has been a reason to showcase and celebrate Japanese culture for over a decade. The giant outdoor festival is one of the most popular of the many major events held in the region and attracts around a million people each year. The 13th Japan Day Düsseldorf/NRW takes place on May 17, 2014 – as always right by the water on the beautiful Rhine River Promenade and with the main stage in the city's historic center, Old Town.
Japan Day Düsseldorf/NRW will start at 12:00 noon when Dirk Elbers, Düsseldorf's lord mayor, Garrelt Duin, the state of NRW's Minister for Economic Affairs, Energy and Industry, Kaoru Shimazaki, the Japanese Consul-General in Düsseldorf, and Katsuya Okano, President of the Japanese Club, open the festival. In the afternoon, musical kicks off the festivities, with Japanese children and teenagers providing the main part of the stage program, which will be opened by the drumming group "Tentekko Taiko."
Modern pop culture will have even more space on the main stage this year, with an appearance by Japanese anime rock band "The Asterplace," the competition "Dance Delight Germany," and an energetic performance by band "Crow x Class," which mixes the sounds of traditional Japanese instruments with modern hard rock while wearing elaborate kei costumes to produce a dynamic mix of punk, Gothic and Japanese kabuki theatre elements.
The grand finale will begin around 11:00 pm – a spectacular Japanese fireworks display with "Japan's Four Seasons" as this year's theme.
Japan Day holds the largest Manga festival in Germany and attracts thousands of fans in Germany and from abroad. This year, Manga fans will be treated to an even wider range of choices as the program on the ADAC stage on Mannesmannufer has been extended until around 9:00 pm. In addition to the Manga-related fashion show competition, anime/video game cover bands such as "Ongaku no Kara" and "Strawberry Sundae Maids" will be performing.
Sports are the focus on the stage at Johannes-Rau-Platz. Besides Karate and judo, visitors will get a chance to see lesser-known Japanese sports such as naginata or iaido. The magnificently robed warriors of the Samurai group "Takeda" will return to their spot by the famous Parliament building to give visitors insights into how this legendary warrior class lived.
At about 60 information and demonstration booths along the Rhine embankment promenade, visitors will be able to practice Japanese craftsmanship and Manga drawing, or try on a kimono. There will be about 20 food tents for a great variety of Japanese cuisine samples.
For those who want to experience the magic of the Far East not just for a few hours but for an entire weekend, Düsseldorf Marketing & Tourismus GmbH's offers a Japan Day hotel package. The deal includes an overnight stay with breakfast at a centrally located hotel, as well as a DüsseldorfCard, for free use of public transportation in the city, as well as discounts at many of the city's attractions. In addition, each guest will receive a travel guide and a Düsseldorf info pack. The package is available for 58 euros per person based on double occupancy.
For full details of the hotel package, go to http://www.duesseldorf-tourismus.de/hotelpakete/hotelpaket-zum-japan-tag. Bookings can also be made directly there online or by calling +49 (0)211-17202-851.
For further information or to download the program flyer, please visit http://www.japantag-duesseldorf-nrw.de.The website also provides lots of information about Japan Business Day which will take place in Düsseldorf on 19 May. Its theme this year is "Energy Turnaround Opportunities 2 – Network/Supply/Usage and Energy Storage."
For DMT's latest announcements and information, visit our Facebook page at http://www.facebook.com/VisitDuesseldorf or follow our latest tweets on http://www.twitter.com/visitdusseldorf.
Düsseldorf Marketing & Tourism GmbH is the visitors and convention bureau of the city of Düsseldorf. Its responsibilities include tourism and city marketing, as well as conference and meeting marketing, hotel reservation services, fairs and convention services, city event ticket sales and advance ticket reservations. For more information, visit http://www.visitduesseldorf.de.
Düsseldorf Airport, Germany's Next Generation HubTM, offers several non-stop flights from US & Canadian cities (Atlanta, Chicago, Ft. Myers, Los Angeles, Miami, New York, Newark, Toronto), as well as convenient connections to many European cities. For more information about the airport, visit http://www.dus.com.