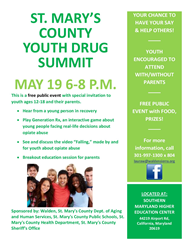 (PRWEB) May 01, 2014
Join Walden, St. Mary's County Department of Aging & Human Services, St. Mary's County Public Schools, St. Mary's County Health Department, St. Mary's County Sheriff's Office for a Youth Drug Summit on May 19th from 6:00-8:00 PM at the Southern Maryland Higher Education Center located at: 44219 Airport Rd, California, Maryland 20619.
This is a free public event with special invitation to youth ages 12-18 and their parents. Youth are encouraged to attend and can attend with or without their parents.
The evening will feature a chance for young people to freely discuss the issues, hear about the experience of addiction and recovery, play Generation Rx, an interactive game about opiate abuse, and view and discuss the video "Falling", made by and for youth about opiate abuse. A separate educational program for parents will be offered. Food will be provided along with drawings for prizes!
For more information about this event, please contact Laura Webb lauraw(at)waldensierra(dot)org.
About Walden
Walden offers a comprehensive array of behavioral health treatment, and recovery services to individuals and families throughout the community. These services include crisis intervention, psychiatric and mental health therapy, trauma services related to relationship abuse or sexual assault, drug and alcohol services and community and recovery support services such as the free and open to the public Beacon of Hope and The Cove/DFZ Recovery and Wellness Centers.
For more information about how Walden can help, please contact our 24 hour crisis line at 301-863-6661 anonymously or call our appointment line at 301-997-1300/888-912-7366. Visit us online at http://www.waldensierra.org, find us on Facebook and Twitter.