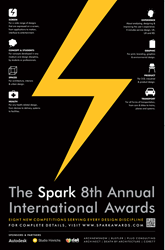 New York City, New York (PRWEB) April 30, 2014
The producers of the eighth annual Spark Design Awards are big believers in co-creation, according to Spark Founder Peter Kuchnicki. "We are about to start work on three events that will utilize cooperative efforts to promote design for betterment. Since this relates directly to Spark's mission, we are excited to have great partners to help propel these efforts."
Each project will reach their mutual goals by different means. The China International Design Fair is mounting an extensive effort to gather a generation of great designers and services. The goal is to aggregate, prioritize and share knowledge and best practices about advanced design technologies. The CIDF and Spark teams will work together to promote and produce aspects of both the Fair and the Awards this year. Shirley Feng, Executive Director of the SIDA, is leading efforts in China on behalf of the CIDF and Spark. The CIDF will be held in Shenzhen, beginning November 29.
The Co-Creative Design Competition is directed by Ms Juhyun Eune, Professor of Media Design and Director of Integrated Creative Design at Seoul National University. The competition is an international effort to encourage and develop multidisciplinary designs that create social innovation and sustainable lifestyles. The winning student teams will share a cash prize of up to US$3000. All CCDC entrants will be eligible for a Spark entry-discount of 30%. The theme of the competition is Safety & Security. Registration opens June 1 and closes in mid-October. (Spark deadlines may be found at this link: here.)
The Taiwan Designer's Week is scheduled for the week of October 3-12, in Taipei. In the months preceding this event, the TDW will be promoting Spark entry opportunities and hosting Spark activities at the TDW. Spark in turn, is seeking sponsorships for the event. "This is probably the most important and vibrant event in Asia for designers," according to Spark Founder Kuchnicki. "Unlike most design weeks, the TDW concerns itself with young designers and firms. This is not about economic development on a macro-level. This is about getting good designers the exposure they deserve and the clients they need. It is the perfect atmosphere for a savvy sponsor interested in supporting cutting-edge and very social design."
SPARK DETERMINED TO ENGAGE WITH PARTNERS AROUND THE WORLD
"We want you!" said Spark Education Director, Clark Kellogg. "Creating relationships with kindred spirits in the design world helps all of us to achieve our goals and support our missions. Design has a responsibility to help rebuild our battered planet. It is a vast task, but we believe that together, it can and must be done."
BONUS INFORMATION
For 2014, the 8th Annual International Spark Awards will continue to explore new directions, with the launch of two new competitions: Spark Health, focused on health and medical related design, including devices, facilities and systems; and Spark Screen, for design delivered on a screen, such as motion design, games, applications, broadcast and film.
8X8X8
"This is the 8th year of Spark, so Spark is excited to announce the Call For Entries for 8 competitions and 8 all new juries. These include Spark Experience, Spark Product, Spark Transport, Spark Graphic, Spark Spaces, Spark Health, Spark Screen and Spark Concept & Student Design. To find out more, please visit the http://www.Sparkawards.com website."
CONTACT INFO
To register and join the Spark Community, visit https://competitions.sparkawards.com/.