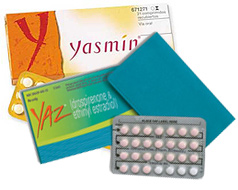 According to attorney David Langevin, time is running out on potential Yaz Yasmin lawsuits
(PRWEB) April 30, 2014
The defective drug attorneys of McSweeney / Langevin filed its latest lawsuit against Bayer Corporation, the manufacturer of the birth control drugs Yaz and Yasmin. (See Buckner v. Bayer Corp., et al, 3:09-md-02100 MDL No. 2100).
McSweeney / Langevin's Yaz / Yasmin complain alleges Bayer, over-promoted Yaz and Yasmin; suggesting Yaz and Yasmin provided the same efficacy as other birth control pills in preventing pregnancy, but with additional benefits such as weight loss and the ability to improve skin quality and appearance.
The Yaz and Yasmin lawyers of McSweeney / Langevin argue Bayer's manufacturing, design, warnings, were all inadequate. Further, the complaint goes on to allege negligence, negligent misrepresentation, and/or fraud, breach of warranty.
According to attorney David Langevin, time is running out on potential Yaz Yasmin lawsuits. Anyone with questions regarding Yaz Yasmin litigation should contact McSweeney / Langevin immediately.
About the personal injury law firm of McSweeney / Langevin
With the sole purpose of helping the injured, the personal injury law firm McSweeney / Langevin ensures women are adequately compensated for wage loss, medical expenses and pain and suffering as a result of Yaz and Yasmin. While most firms have you speak with an "investigator" or "case manager," McSweeney / Langevin connects people with one if its attorneys who will be handling your case. The firm handles personal injury cases related to dangerous/defective pharmaceutical drugs, dangerous/defective medical devices, and serious/catastrophic injury claims. For more information, visit http://www.westrikeback.com or call 1-800-888-4425.