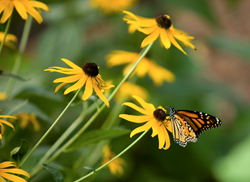 "When you attract bees and butterflies to your backyard garden, you are also helping build a healthy ecosystem," said Karen Filloon, landscape designer with Southview Design.
Minneapolis, MN (PRWEB) April 30, 2014
Bees and butterflies may be rare sightings someday if we continue to unwittingly destroy bee colonies and decimate the monarch butterfly population.
Southview Design, one of the top 25 fastest growing landscape firms in the U.S., offers several ideas for homeowners to conserve these two essential insects, which pollinate many important crops.
"These tiny creatures are vital because they pollinate many of our food sources," said Karen Filloon, landscape designer with Southview Design. Filloon explained that bees and butterflies pollinate fruits, vegetables and nuts by feeding on the plants' nectar and pollen. In fact, nearly one-third of the world's food supply, including almonds, apples, blueberries, papaya and many other fruits, vegetables, grains and nuts, require pollination, according to a recent article in Forbes.
While not usually welcome at a picnic, honeybees are among nature's best pollinators. The value of the bees' pollination is estimated at $15 billion per year in the U.S. and $200 billion worldwide. With the shortage of bees, farmers have resorted to renting them to pollinate their crops – and these costs end up getting passed along to consumers.
"Encouraging bees and butterflies and providing food for them isn't just nice; it's essential for many of our crops," Filloon said. "But the good news is that there's something each and every one of us can do to help bring back the butterflies and bees."
There's much debate about the primary reasons for colony collapse disorder and the rapid decline in the honeybee population. The monarch butterfly is also in a rapid decline and most believe that it's because milkweed – the primary food source for the developing caterpillar – is much less available.
Filloon also offered several tips for planting a garden to attract bees and butterflies:
Color: Plant their favorite colors: blue, purple, white and yellow are favorite colors of pollinators. Specifically, Filloon suggested aster, bee balm, butterfly bush, Echinacea, goatsbeard and pincushion flower. If you have room, you can also plant milkweed to feed monarch caterpillars.
Cover: Cover as much area as you can with pollinator-friendly perennials; you'll have less grass to mow! And choose a wide variety of plants that will bloom all season long.
Clover: Pollinators love clover. Buy grass seed that includes clover, and don't use herbicides that kill clover and other broadleaf weeds.
"You rarely need to use insecticides in your home garden," Filloon said. "If you find a pest you can't tolerate, spray the pest itself, not the flower."
"Don't be afraid of bees; attract them and other pollinators like butterflies to your backyard garden," Filloon said. "You can create both a beautiful garden and a healthy ecosystem."
For more ideas for creating bee and butterfly gardens and encouraging pollinators, visit the garden section of Southview Design at http://blog.southviewdesign.com/category/gardens.