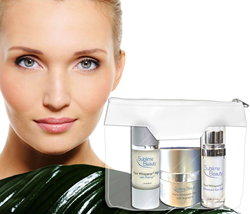 Attain younger, healthier skin with Face Whisperer® products from Sublime Beauty®.
St. Petersburg, FL (PRWEB) May 05, 2014
Relax and reduce wrinkles, boost collagen, improve face and neck skin quailty, and even reduce bags or dark circles with the popular Face Whisperer® line.
"Our signature line is popular, and we have placed the Face Whisperer® skincare set on sale for a limited time," says Kathy Heshelow, founder of Sublime Beauty®. "This line is about "Aging Younger", our theme at Sublime Beauty®."
The Face Whisperer® skincare set includes the day cream, night cream and advanced eye gel in a quality vinyl bag, marked down 14%.
The Face Whisperer® Day cream relaxes wrinkles with Argireline® (known as the natural botox) and boosts collage with a special compound called Trylagen®. Botanicals hydrate well.
Collagen diminishes as we age, and is a factor (along with diminishing ceramides) in the formation of wrinkles, lines, sagging and thinning of skin.
The soothing night cream features Matrixyl® is an exciting peptide that can double collagen, an ingredient also found in the Face Whisperer® Advanced Eye Gel. The eye gel also features Eyeliss® and Haloxyl®, which reduce inflammation, increase circulation, help diminish dark circles and bags under the eyes.
Because the neck shows age quickly, a special Face Whisperer® Neck & Decollete cream was formulated for this fragile skin. It includes Argireline ®and a number of organic ingredients.
All are available on the Sublime Beauty® webstore with free standard shipping, or on Amazon.