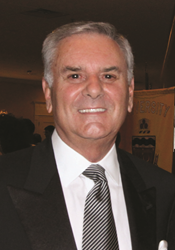 Given how the Center is being run, the recognition it's getting and the type of students we're bringing in, it was easy for me to say, 'I'd like to pledge another major gift to the University.'
South Orange, NJ (PRWEB) May 01, 2014
Gerald P. Buccino, a nationally recognized pioneer of "turnaround management," has made a $1 million gift commitment to his alma mater, Seton Hall University, to expand the reach of its Leadership Development Honors Program at the Stillman School of Business.
In honor of the gift, the University will name its leadership development program the Gerald P. Buccino '63 Center for Leadership Development, which will be housed in the Stillman School of Business.
"Jerry's long-standing relationship with Seton Hall and the Stillman School of Business has served as an inspiration," said Stillman Dean Joyce Strawser. "From the establishment of the Buccino Scholars program in 1996 to this latest gift, his contributions to the Center have served as a model for the active engagement of top executives and helped to increase our School's reputation and reach to national prominence – making this so much more than simply an academic honors program."
Dean Strawser explained that Buccino's passion, commitment and advice are providing a strong foundation to elevate the school's leadership development program. Buccino's legacy is expanding beyond the select group of scholars he personally mentors – even beyond graduation. This gift will distinguish the Center from other business school honors programs by providing extensive one-on-one networking opportunities with key business executives and hands-on professional development for elite undergraduate business leadership students to complement their academic learning from the freshman through senior years.
The gift will provide the opportunity for these students to have valuable interactions with national and international business leaders, study abroad experiences that expose students to international businesses, and leadership collaborations with other universities as well as critical skills development seminars. Leadership students may talk with a Stanley Cup winner on what leadership means or discuss business ethics with a prominent CEO. Alumni of the program have found success on Wall Street, with firms such as Goldman Sachs, as well as at leading corporations, government agencies and law firms including Johnson & Johnson, Prudential, Merrill Lynch and the U.S. Treasury.
"Jerry has always been a true compass, mentor and coach for our leadership students," said Michael Reuter, director of the Center. This aspirational gift provides the opportunity to further leverage the Center's outreach, performance, and development of extraordinary leaders in their personal and professional lives. These global leaders will in turn impact those they serve for generations to come."
Buccino is a successful businessman based in Chicago who specializes in saving troubled companies and turning them into profitable enterprises. He is the president of The Buccino Foundation and a Seton Hall University Regent Emeritus. He hopes that his gift will enable the Stillman program to become one of the preeminent leadership centers in the nation.
"It's a wonderful program," said Buccino. "It's a highly ranked program. Given how the Center is being run, the recognition it's getting and the type of students we're bringing in, it was easy for me to say, 'I'd like to pledge another major gift to the University.' "
He added, "The mentoring component of this program is extremely important. It's not just about going to school and getting good grades. It's the opportunity to study abroad and meet with global industry leaders. It's an environment that I think raises the bar and prepares these young people to go out into the world and be successful."
###
ABOUT SETON HALL UNIVERSITY
One of the country's leading Catholic universities, Seton Hall University has been a catalyst for leadership — developing students in mind, heart and spirit — since 1856. Home to nearly 10,000 undergraduate and graduate students and offering more than 80 rigorous majors, Seton Hall's academic excellence has been singled out for distinction by The Princeton Review, US News & World Report and Bloomberg Businessweek. Seton Hall, which embraces students of all religions, prepares its graduates to be exemplary servant leaders and caring global citizens. Its attractive main campus is located in suburban South Orange, New Jersey, and is only 14 miles by train, bus or car to New York City, offering a wealth of employment, internship, cultural and entertainment opportunities. The university's nationally recognized School of Law is prominently located in downtown Newark.
For more information, visit http://www.shu.edu.