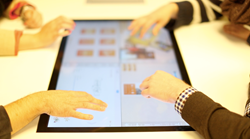 ThinkHub is going to change the way that companies and teams collaborate.
Charlotte, NC (PRWEB) April 30, 2014
T1Visions, a provider of interactive touchscreen experiences, today announces it will introduce its latest software application, ThinkHub, at InfoComm 2014. ThinkHub has been in the early stages of development since 2013, and the company is now preparing the beta release of the software that will officially be presented to the InfoComm audience for the first time. As with all T1Visions software applications, ThinkHub is designed for multiuser, multitouch use.
ThinkHub is a tool to help teams of people to ideate, visualize and consolidate information, and draw conclusions. In today's corporate and educational environments, it is crucial to provide teams a platform that facilitates collaboration. As such, ThinkHub is BYOD-friendly, meaning anyone can tap into the application from the device that he/she uses the most. What's more, the ThinkHub Canvas expands to over five times the surface area of the physical touchscreen – ultimately housing more content than your average whiteboard.
Dave Aichele, Executive Vice President of Sales and Marketing at T1Visions, explains why the company is choosing InfoComm as the event to introduce this new technology: "the audience at InfoComm is largely coming from corporate and educational settings. They understand the need for collaborative tools that complement open space work environments – and we believe we have the solution for them. ThinkHub is going to change the way that companies and teams collaborate. It's going to transform traditional meetings into more proactive, effective sessions that drive conversations, positively impact performance levels, and that physically alter the work space."
To learn more about ThinkHub, contact T1Visions at sales(at)t1visions(dot)com, or visit the team at Booth C7147 at InfoComm 2014 in Las Vegas, NV.
About T1Visions
T1Visions creates interactive touchscreen experiences. Deliberately large in size and incredibly durable, our inTouch™ Platform includes tables and walls, along with complementary digital signage and mobile device integration. Our products are powered by proprietary multitouch, multiuser software that transforms public spaces into more dynamic environments. The T1Visions team is made up of design, engineering, business and technology minds alike - resulting in unrivaled support to our customers from start to finish.
Based in Charlotte, NC, T1Visions works with retail, events and exhibits, corporate, hospitality, and education markets around the globe. Visit http://www.t1visions.com to learn more about our products and how we can work with you and your industry.