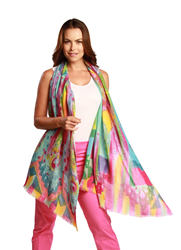 A summery accessory makes a perfect Mother's Day gift.
San Rafael, California (PRWEB) May 01, 2014
Mother's Day is on Sunday May 11th, and many are trying to find the perfect Mother's Day gift for their Mom. Mother's Day occurs just as people are gearing up for summertime. Moms are planning for warm weather, beach days, and summer vacations at a resort or perhaps a cruise. To help Mom prepare for her summer adventures, SolEscapes recommends giving Mom a beautiful resort accessory that she will love.
Summertime is a popular time for vacations, pool afternoons, and beach weekends. All of these outings require accessories that fill the practical needs of sunny, warm weather, but also look stylish. SolEscapes carries a wide assortment of resort wear and accessories, such as scarves, sandals, resort bags and sun hats that would make wonderful Mother's Day gifts.
SolEscapes suggests the following summer accessories:

Riga tote bag. When visiting the beach or pool, a good tote bag is a necessity. There are many supplies to be carried, including towels, drinks, cover-ups, sunscreen and the like. Riga is a great size for this; roomy, yet not too large. It has practical pockets, for stowing keys, cell phones and other small items. Moreover, Riga is chic with its attractive stripes in brown and white or black and white. The treated canvas and metal feet on the base help keep Riga clean. By Global Glamour. $82.50
-Jasmine resort scarf. A beautiful scarf makes a very special gift. Jasmine features a hand-painted design in gorgeous summery hues. It's made of rayon and is an oversized 80" X 28". Its large size and soft drape make it so versatile: Jasmine can be worn as a neck-scarf, a shawl, a head wrap, or a bathing suit cover-up. Such an adaptable accessory is perfect for Mom's summer resort or cruise vacation. By Profile by Gottex. $75
-Keikei's flip-flops. Sandals are a summer staple. They help keep the feet cool, and are easily slipped on and off when walking on the beach. Keikei's flip-flops are stylish, and would work wonderfully on a resort vacation, tropical cruise or at the beach. The straps are made from Mother of Pearl and coconut beads, and the comfortable foot bed is made from EVA/rubber. Keikei's flip-flops come in a variety of styles and colors. $35 - $40
-Pandora sun hat. Sun hats are the ultimate summer accessory. A good sun hat protects the wearer from the sun's harmful rays and also provides a lot of style. Pandora has metallic thread woven into it, giving it a subtle shimmer. It's packable, so it can be easily tucked it into a tote bag or suitcase. It's made of soft fabric, plus has an adjustable head size, making it comfortable. Pandora has a 5" brim comes in 4 great colors: sand, bronze, coral and black. By Physician Endorsed. $55
Persolé sun umbrella. A parasol makes a very special, yet practical gift. It's stylish, with its ombre pink exterior, beautiful pink flowered interior and elegant crystal studded handle. It's practical; its high performance fabric blocks 99.7% of the sun's rays. Providing portable shade, a sun uv umbrella works well at a summer wedding, a sporting event, for shopping, at the beach and beyond. It even doubles as a rain umbrella, in case Mom gets caught in a summer shower. By Persolé. $250
To make the gift extra special, start with one of the special items mentioned above, and then add personal touches. To the Riga resort bag, add a few poolside necessities: a fun water bottle, a novel and a bottle of sunscreen. Combine the Keikei's sandals with a gift certificate for a pedicure, inviting Mom to pamper her feet. A Pandora hat paired with a Jasmine scarf makes a very generous and elegant gift. To wrap, drape the scarf around the crown of the hat and place in a pretty hat box. A Persolé sun umbrella is perfect for a day out on the town, so tuck in a "voucher" good for one day of shopping and lunching.
SolEscapes is a California based online boutique offering a unique selection of stylish and practical sun, beach and resort essentials for all warm weather needs. SolEscapes offers personalized service, high quality products and fast, affordable shipping. Merchandise, including all beach hats, is carefully and beautifully packaged to ensure a perfect arrival. For more information, please visit SolEscapes.com. You can also connect with SolEscapes on Facebook, Twitter and Pinterest.