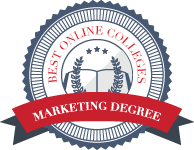 (PRWEB) April 30, 2014
BestOnlineColleges.org is a pioneer in online educational resources for students. We seek to help new students during their college search by providing an analysis of what degree paths are actually available to them, with an emphasis on distance learning. By combining educational data with surveys and academic resources, we evaluate and rank the best places in the U.S. for online degree programs of all subjects.
Innovative and adaptable marketing is the cornerstone of any successful business and has become increasingly valuable given the evolving channels made available with the internet and social media outlets. This has created a demand for companies to find individuals who are not only well versed in traditional marketing but able to integrate these emerging technologies and leverage them to influence and win their audiences. The continued growth of the industry has created a job market that is plentiful and lucrative. Research from the U.S. Bureau of Labor Statistics projects a growth of 31.6% for market research analysts and marketing specialist for the next decade.
The advent and growth of online marketing degree programs blends well with similar web-based innovation in marketing itself. Marketing students can now earn a degree from their computers while they use those same machines to research, promote, and market their ventures. For individuals whose current employers support and incentivize continued education, online business programs offer an easy and flexible way to work while increasing earning potential.
For this reason, BestOnlineColleges.org has compiled and analyzed data from the National Center for Education Statistics (NCES) in order to create a thorough list of the 2014 Best Schools Offering Online Marketing Degree Programs. The list integrates detailed insight into the enrollment, retention, and graduation rates of each program in addition to special consideration into the breadth its specializations. There are 22 schools on this year's list.
The list of the "Best Schools Offering Online Marketing Degree Programs" can be found at http://www.bestonlinecolleges.org/best-schools-offering-online-marketing-degree-programs/. The schools featured are as follows:
Albany Technical College
Amberton University
Atlanta Technical College
Berkeley College-New York
Broadview University-West Jordan
Chattahoochee Technical College
Everest College-San Bernardino
Everglades University
Ferris State University
FIDM/Fashion Institute of Design & Merchandising-Los Angeles
Globe University-Woodbury
Malone University
Minnesota School of Business-Richfield
Montgomery County Community College
Northeastern Oklahoma A&M College
Northern State University
Northwood University-Florida
Piedmont Community College
Southeast Technical Institute
University of the Potomac-VA Campus
Wiregrass Georgia Technical College
Wisconsin Indianhead Technical College