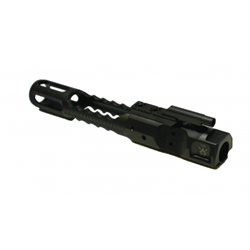 A super sexy way to reduce recoil and improve tune-ability.
Saint Charles, MO (PRWEB) April 30, 2014
VooDoo Innovations is proud to announce their newest product, the VDI LifeCoat Low Mass Bolt Carrier. The bolt carrier is just one of the many innovative VooDoo products to hit the industry and is sure to make a major impact. Compared to standard direct impingement bolt carriers, the VDI Low Mass Bolt Carrier is 22% lighter. It is also one of the first low mass carriers available for direct impingement systems.
Among the many benefits the new carrier has, it allows the shooter endless tune-ability to suit any type of ammo (i.e. heavy or light) they wish to shoot. The bolt carrier also has
LifeCoat treated components that offer increased durability, lubricity, corrosive resistance, and carbon resistance making it more durable with less maintenance.
Reduced recoil is important for competitive shooters so that they can accomplish better target acquisition on follow up shots. The carrier is great for serious shooters, or shooters who want a reduced recoil. You can also order a complete Low Mass Bolt Carrier Group including VDI LifeCoat Bolt and Firing Pin.
VooDoo Innovations is dedicated to providing quality parts, and accessories for modern sporting rifles including the AR-15 and other platforms. They manufacture innovative products to suit the needs of the modern day shooter. For more information on VooDoo Innovations please visit voodooinnovations.com
You can order the LifeCoat Low Mass Bolt Carrier from Tactical Shit or VooDoo Innovations.