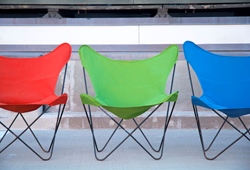 St. Louis, Mo. (PRWEB) May 02, 2014
Any of the Bella-Dura® fabrics will perform equally well indoors or outdoors. This revolutionary fabric packs its performance into every woven strand of proprietary fiber rather than applying harmful chemicals to the already woven product in order to pass industry standards. The textiles bearing the name Bella-Dura® are solution dyed, exceed 50,000 double rubs (wyzenbeek), UV resistant (exceeding 1,500 lightfast hours), anti-microbial, bleach cleanable, and sustainable. Bella-Dura's® cutting edge use of technology in fiber construction has garnered significant attention and awards within the design and contract industries including most recently the 2013 Legacy Leader from the C2C Products Innovation Institute. Do not forget that this wonderfully durable and eco-friendly product is also one hundred percent domestically produced. Anzea Textiles will initially be introducing three patterns with a total of thirty-three different colors from Bella-Dura®.
About Anzea Textiles:
Anzea was founded in 1990 by creative director Mitzi Mills and business partner Bruce Doeren. Since the company's inception, Anzea has focused on contract upholstery textiles offering the marketplace the option of leading edge colors, bold designs and high performance. These designs are reflective of Mills graphic design background, love of photography and travel.
The Anzea contract textile collection is a spirited mix of materials from luxurious natural fibers to recycled polyester yarns. Bleach cleanable, solution dyed fabrics and vinyl upholstery form a cohesive high performance bond with the green faux leathers in nylon matrix and polyurethane. To complement Mills designs, Anzea expanded to include the Jhane Barnes collection adding a layer of sophisticated fashion. Barnes joined Ruth Adler Schnee as an inspiring voice in the Anzea design brand. Schnee's mid-century designs for Anzea are in galleries and museums worldwide. Schnee's understanding of the whimsy in textile design has influenced the color palette and patterns developed by Anzea and the design team over the last 22 years. Design, marketing and warehouse facilities are located in the Fort Worth, Texas arts district. To visit the website, click here..