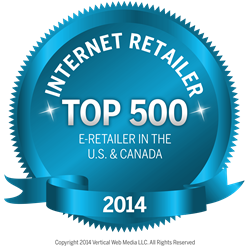 (PRWEB) April 30, 2014
LinenTablecloth, an e-commerce company specializing in the manufacturing and online sales of tablecloths, chair covers, and event accessories, ranked among the top 500 e-retailers of 2014 according to global e-commerce research authority, Top500Guide.com. The online database, Top500Guide.com, is the world's largest e-commerce database, measuring financial and operating information of e-retailers across the globe.
Every April, Top500Guide.com ranks the 500 largest e-retailers in the United States based on global e-retail sales. LinenTablecloth, founded in 2005 by CEO Ron Berrett, ranked among the 500 largest e-retailers in the United States.
The online linen retailer competes against e-commerce giants like the number 1 ranked e-retailer in the United States, Amazon.com. Although LinenTablecloth is small in comparison to e-retailers like Amazon and Walmart, the table linen manufacturer and retailer has rapidly expanded and gained significant web authority in its niche.
Through a combination of Search Engine Marketing (SEM) and Search Engine Optimization (SEO), the company has grown by nearly 5% in 2013. With over $20M in online sales in 2013 and a new distribution center in Canada opening this May, LinenTablecloth is quickly gaining recognition as the go-to online retailer for table linens and event accessories.
About LinenTablecloth:
LinenTablecloth, a Berrett Brothers Inc. company, is the leading online retailer of tablecloths, chair covers, and other table linen products. The company owns a manufacturing facility located outside of Shanghai, China where product quality and consistency is carefully monitored.
Since 2005, LinenTablecloth has been the preferred online linen shopping site of brides, wedding planners, party planners, and event coordinators in the United States and Canada due to its affordable hotel and restaurant quality linens. The Oregon-based company is known for its excellent customer service, fast shipping and customer-friendly return policy. LinenTablecloth provides telephone support through its toll-free hotline: (877) 835-5617. Its online storefront, http://www.LinenTablecloth.com, offers a wide selection of linens for homes, special events, hospitality and service industries.