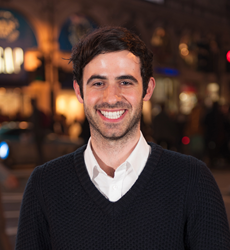 London (PRWEB UK) 2 May 2014
"For us the partnership was a no-brainer," says Nick Telson, co founder of DesignMyNight.com"DoingSomething.co.uk are a dating site where peoples' profiles are made up of fun things they can do on dates. And DesignMyNight.com as DoingSomething's ticket partner, allows daters to quickly and easily book tickets to their favoured events.
DoingSomething.co.uk is the site that's single-handedly "taking the awkward out of dating". Founded in 2011 as an antidote to 'deadtime dating' that endless merry-go-round of drinks-in-a-bar dates that too often can come to resemble job interviews.
Matt Janes, DoingSomething.co.uk CEO and co-founder adds "an activity - be that anything from Ping Pong or Abseiling gives people something in common from the get go. And puts an end to the dreaded awkward silences desperately searching for something to say." On DoingSomething.co.uk, singletons post ideas of things they want to do on their profile. Then find someone who wants to do them too.
DesignMyNight.com will promote DoingSomething.co.uk on their site through all date searches and collaborate with them on larger events. The expertise from both companies in their field will have a huge advantage for sales, growth and general awareness. DesignMyNight.com will provide date ideas for DoingSomething.co.uk on a regular basis and offer them tickets to exclusive events.
"It's important for companies to connect and create lasting relationships, it's how we grow and reach different markets," says Nick. Matt added "currently DoingSomething.co.uk is bigger in London than other cities. And creating these relationships is the stepping stone to growth outside London."
DeisgnMyNight.com and DoingSomething.co.uk kicked off their partnership last month with the very successful World's Biggest Ping Pong date in Bounce, London. Nick said, "This was a great event and tickets sold very quickly. It was a sell-out event and we were inundated with requests for more tickets from those who did not buy quick enough! It was a great start to the partnership and I think we're going to make a great team for upcoming events."