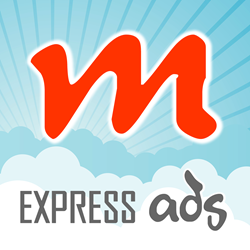 'Monololo is the best way to quickly post classified ads online.' - Hekmat Tatari and Ossama Khayat
Wilmington, DE (PRWEB) May 20, 2014
In an increasingly mobile world where millions of classified advertisements all compete for reader's attention, online classified ad websites fail to provide buyers and sellers a fast, efficient option to quickly post and browse local ads.
Monololo, developer CORP80's newest iOS and Android-compatible mobile application, offers advertisers a new option that goes above and beyond traditional online classified ads. Just download Monololo, register with a mobile number, and join the Monololo Express Ads community. Users can post classified ads for free or browse ads and communicate with sellers. Now, getting ads to a local, regional, or a global audience is fast, simple, and cost-effective. Monololo makes finding the right service, job, or item a simple click away.
"Monololo was created as an easy, free and fun way to post ads that are accessible from anywhere in the world," says the app's co-founder, Hekmat Tatari. "Creating an account and posting your ad with Monololo literally takes less than a minute."
Monololo is optimized for use on a mobile device. Posting text-based ads can be done in seconds, so capturing both local and international markets is easy on the secure, user-friendly, and visually appealing platform. Users can filter searches to a particular location or category by pinpointing specific regions, and will also be able to do a quick keyword search of the Monololo archive to find services, jobs, or sale items. Advertisers can track the number of views for each ad, as well as safely and securely reply to any inquiries with the in-app instant messaging or integrated calling feature. Favorite ads are also archived for easy access on Monololo.
Privacy and security are Monololo's first priorities. The app offers complete security with mobile phone number registration and validation. Users will never have to worry about their privacy, because all advertisers have complete control over their postings and accounts. Users can either extend their ads by posting phone numbers and relevant information, or post anonymous listings and stay private while allowing the Monololo community to respond through in-app messaging.
There are no limits to Monololo's postings, so users can place or respond to as many ads as they wish. Users can also utilize Monololo to place and view ads in nine of the world's most widely-spoken languages, so they can be sure that their ad will remain relevant anywhere in the world.
Monololo is available free worldwide from Apple's App Store: bit.ly/monololo and the Google Play store: bit.ly/monololo_android. Visit http://www.monololo.com for more information.
About CORP80 LLC:
CORP80 is an emerging mobile development company headquartered in Kuwait and operating internationally. CORP80 was founded by two passionate technology entrepreneurs, Hekmat Tatari and Ossama Khayat, with a shared mission to develop online services to connect buyers and sellers around the world in their local communities and internationally.
For further information on Monololo, please contact:
Public Relations
Essential App Marketing
Phone: +1-312-543-1156
Email: pr(at)essentialappmarketing(dot)com