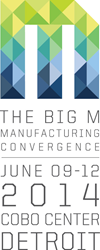 The AMP 2.0 National Meeting is perfectly positioned at THE BIG M – providing opportunity for manufacturers to have their voices heard by policymakers and team up on their own industry initiatives.
Dearborn, MI (PRWEB) May 01, 2014
Aligning with SME's key advanced manufacturing event, THE BIG M, the Advanced Manufacturing Partnership 2.0 National Meeting is scheduled from 1 to 5 p.m. on June 9 at Cobo Center in Detroit.
AMP 2.0 is a national effort initiated by the White House to secure U.S. leadership in emerging technologies, which will create high-quality manufacturing jobs and enhance America's global competitiveness. This meeting will be co-hosted by SME, the University of Michigan and Northrop Grumman.
"The collaborative input of industry is powerful and will shape the future of manufacturing," said Debbie Holton, SME managing director of industry strategy and events. "The AMP 2.0 National Meeting is perfectly positioned at THE BIG M – providing opportunity for manufacturers to have their voices heard by policymakers and team up on their own industry initiatives."
Detroit, where THE BIG M is hosted, and the Great Lakes Region welcome AMP 2.0. The area has first-hand knowledge of these activities with the recently announced advanced manufacturing hubs: the American Lightweight Materials Manufacturing Innovation Institute in Detroit, and the Digital Lab in Chicago.
"THE BIG M is bringing together manufacturing leaders from industry and academia for one week of engaging discussions on state-of-the-art research and innovation," said Mary Sue Coleman, president of the University of Michigan. "The timing and location of this AMP 2.0 National Meeting is optimal, as many of manufacturing's key leaders and stakeholders will already be gathering in Detroit."
Attendees of the AMP 2.0 National Meeting will assess the nation's and region's strengths and challenges in bringing advanced manufacturing innovation to small and medium-sized businesses. The discussions from this meeting will help the AMP 2.0 Steering Committee develop specific policy recommendations for President Obama later this year.
"We invite all manufacturing stakeholders in the Great Lakes Region and beyond to participate in this important meeting," said Wes Bush, CEO of Northrop Grumman. "Participating in THE BIG M Manufacturing Convergence, among several regional meetings, to highlight this critical national effort is imperative for the industry."
The AMP 2.0 Steering committee is comprised of leading manufacturing CEOs and university presidents including Dow Chemical Company, the Massachusetts Institute of Technology, Honeywell, Alcoa, Caterpillar Inc., Siemens, the University of Michigan, Northrop Grumman and others.
For more information on AMP 2.0 or the June meeting, visit sme.org/amp or manufacturing.gov.
About THE BIG M
SME's THE BIG M initiative is years in the making ― designed to convene manufacturers around industry's most vital issues and leverage the power of industry leaders to collaborate and address them. This event demonstrates that manufacturing professionals and companies can shape the future by creating a strong path forward together, connecting people with technology and expertise, affirming the importance of manufacturing, speaking in a unified voice to policymakers, and proving that manufacturing is a knowledge industry where creativity is sought and valued.
Highlights will include Innovation Factories featuring live presentations of the latest technologies; exhibit floor "tech talks" and Q&A sessions with industry experts who will provide the knowledge and insight manufacturers need most. Featured technologies include smart manufacturing, modeling and simulation, digital manufacturing, advanced materials and lightweighting, cybersecurity and more. THE BIG M is the umbrella pulling together several co-located events including: SME's RAPID Conference & Exposition, the North American Manufacturing Research Conference, the ISA Cybersecurity Conference the MMTC Proud to Manufacture in Michigan Conference, the Great Lakes Manufacturing Council Manufacturing Forum, and the Advanced Manufacturing Partnership 2.0 National Meeting.
About SME
SME connects all those who are passionate about making things that improve our world. As a nonprofit organization, SME has served practitioners, companies, educators, government and communities across the manufacturing spectrum for more than 80 years. Through its strategic areas of events, media, membership, training and development, and the SME Education Foundation, SME is uniquely dedicated to advancing manufacturing by addressing both knowledge and skill needs for industry. Follow @sme_mfg on Twitter or facebook.com/smemfg.