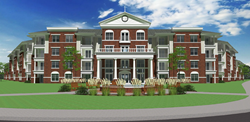 Virginia Beach, VA (PRWEB) May 01, 2014
The not quite one year old Franklin Johnston Group continues to raise its profile in the Hampton Roads apartment business with both new construction and new management contracts.
The company has two affordable living communities in the planning stage or under construction in Norfolk. The Crossings at Berkley Station is being built on the former 10-acre site of the Berkley Lumber Yard. FJG's plans call for a 156-unit gated apartment community featuring swimming pool, fitness center and playground. Construction of the three-story building will begin later this year. The Crossings at Berkley Station is the first new development in Berkley in years and is expected to provide the impetus for revitalization of the entire area.
FJG is also developing The Pointe at Pickett Farm in Norfolk, a 300-unit $39 million, high quality affordable living apartment community, a major emphasis for the company. The first phase of The Point at Pickett Farm is scheduled for opening this Summer. The Pointe is being constructed on what has been called the City of Norfolk's last working farm. Pickett Farm has been a 24-acre horse farm on Broad Creek for many years. The Pointe at Pickett Farm features a waterfront location with clubhouse, swimming pool, fitness center and tot lot.
In addition to the two new projects underway by FJG, the company also announced the acquisition of two new management contracts on the Peninsula. Marlyn Development Corporation of Virginia Beach has begun construction of The Woodlands, a 132-unit independent senior living community in the Phoebus community in Hampton. When completed, The Woodlands will feature fitness center, arts and crafts room, business center, library, beauty salon, card room and community area. Marlyn Development Corporation has built more than7,000 apartments in the Mid-Atlantic region. Marlyn selected FJG to manage the property due the company's extensive property management and senior living experience.
Marlyn also selected FJG to manage Forrest Pines Senior Community, opening in June in Newport News. Forrest Pines is designed for active adults 62+. The 1 and 2 bedroom community features courtyards with outdoor living areas, swimming pool, clubhouse with fitness center, beauty salon, and business center.
"We are a market-driven company," said Taylor Franklin, Chief Operating Officer of Franklin Johnston Group. "By that I mean that we take great care in determining what apartment niches are not being satisfied and we build to those needs. We see a great need for high quality affordable housing in Hampton Roads and we are leading the way in meeting those needs. Likewise, Maryln Development is responding to the aging population in the region and the accompanying demand for senior housing. We have extensive experience in senior living management and welcome these two communities to our management portfolio."
ABOUT FRANKLIN JOHNSTON GROUP
The Franklin Johnston Group is a developer and manager of multifamily rental residences in the senior, luxury and affordable housing sectors. The company owns and manages more than 5000 units and 38 properties throughout the Eastern U.S. The FJG portfolio is composed of its own properties as well as those owned in partnership with various individual and institutional investors. The company develops new properties and acquires and rehabilitates existing communities. FJG is headquartered in Virginia Beach, VA and employs more than 250 people throughout the mid-Atlantic and Southeast.