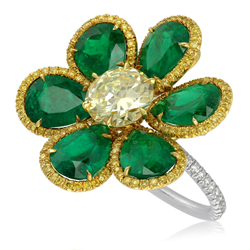 "It is about time the public has easy access to socially responsible and affordable emeralds and jewelry."
New York, NY (PRWEB) May 05, 2014
Diamond Envy announces the debut of their natural Emerald Collection including both loose emeralds and emerald jewelry on their e-commerce site. Ethically sourced Zambian and Colombian emeralds are now available in beautiful rings, earrings and necklaces. Loose emeralds and matched pairs are also available to those who want to add to their collection or design a custom piece of jewelry. Additional white and yellow diamonds are used to accent the green emeralds in some jewelry designs. Emeralds are set in 18k yellow gold to enhance their beauty while white diamonds are set in 18k white gold or platinum.
Colombian emeralds are prized for their rarity and rich color whereas Zambian emeralds are beautiful yet more abundant and affordable. The diverse emerald collection from Diamond Envy provides many options with price points ranging from $13,000-$275,000 Each emerald is represented on Diamond Envy with a photo and video. The videos give the client an opportunity to view the gemstones as they look in real life and to understand their true color. Diamond Envy only offers emeralds and diamonds from legitimate sources that are conflict free and ethically sourced.
Some important pieces from the new collection include a pair of classic dangle earrings, a large cocktail ring and a cluster style necklace. The emerald earrings feature 20.74 carats of pear shaped Zambian emeralds set with meeting points and a white diamond connecting them in the middle. Mila Kunis wore these statement earrings to a book launch party in March. A 4.56 carat emerald flanked by two colorless diamonds form a beautiful ring in 18K two-toned gold. A one-of-a-kind necklace featuring 20 green emeralds, 15.79 tcw., surrounded by yellow diamond halos, dangle gracefully from a double strand 18K yellow gold chain.
"Emeralds are such luxurious gemstones. They have been featured in so many important and famous jewelry collections for centuries. It is no wonder that women are fascinated by their beauty," says Design Consultant, Christina Lee. "It is about time the public has easy access to socially responsible and affordable emeralds and jewelry."
About Diamond Envy
Diamond Envy is an e-commerce website for natural colored diamonds and natural colored diamond jewelry. For 15 years the company's founders worked in New York's famed Diamond District as diamond wholesalers—sourcing rough diamonds from ethical, conflict-free suppliers, cutting and polishing them into their finished state, and selling them to the wholesale market. Diamond Envy prides itself on its friendly and easily accessible customer service. Think of the Diamond Envy team as the Web's jewelry concierge—available in whatever capacity is needed, whether as a design liaison, gemology educator, or a hand to hold through a first jewelry purchase. It's their job to be available throughout the buying process to ensure full customer satisfaction. Visit us online to see our entire natural colored diamond collection.