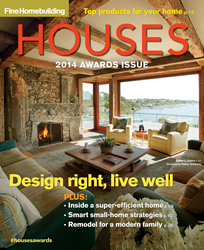 Newtown, CT (PRWEB) May 02, 2014
Together, these homes offer a snapshot of the most-progressive design ideas and construction techniques being executed by today's top architects and builders. The winners of the coveted HOUSES Awards are featured in the pages of the annual HOUSES issue, the industry's premier design resource, and digitally through extended photo galleries and inspirational design videos on FineHomebuilding.com/housesawards.
Here are the winners in each category:
Best New Home - The winner of the best new home category goes to Vancouver, B.C. architect James Tuer for the infill home and laneway cottage he designed. Modern in style and construction, this home exemplifies forward-thinking homebuilding.
Best Remodel - Krista Becker takes home the trophy this year for best remodel. A complete reinvention of a 1930's bungalow in Southern, CA, the whole-house remodel uses smart design strategies—replicable in any remodel—to modernize the floor plan and to create, bright, contemporary interior spaces that are inviting and easy to live in.
Best Small Home - At roughly 1600 sq. ft., this year's best small home, designed by Anne Callender of Whipple-Callender Architects, is sure to spark debate about small-home design. Small can be relative, and for empty-nesters and baby-boomers heading toward retirement, this home shows that downsizing doesn't have to come with sacrifices in style, comfort, or good living.
Best Traditional Home - Architectural Resource wins the best-traditional-home award for its embrace of the past, present, and future. The new details harken back to the original style, the rearranged floor plan suits modern life, and the craftsmanship and materials are prepared to endure another century of service.
Best Energy-Smart Home - The honor for best energy-smart home goes to Maine architects Matt O'Malia and Riley Pratt of GO Logic, for successfully capturing the comforts of traditional design in a cutting-edge, high performance home in rural Michigan. This architecture duo magnificently designed Michigan's first certified Passive House that is 90% more efficient than the average home.
Editor's Choice -The editor's choice award goes to Mark Hutker and James Moffatt of Hutker Architects for the home they designed on the island of Martha's Vineyard. Deeply rooted to the traditions and style of its place, the house is one of the greatest examples of regional architecture Fine Homebuilding has seen in a long time.
Rounding out this year's HOUSES Awards are the Readers Choice awards with winners from Arizona, California, and a tie between two homes, one from Rhode Island and the other from North Carolina.
To learn more about these homes, see videos of them, photo galleries, and to see behind the scenes of the HOUSES issue, please check out the HOUSES Awards on FineHomebuilding.com. And to submit a project for next year's HOUSES Awards, please check out the 2015 Call for Entries. #housesawards
(Editors please note: Fine Homebuilding editors, the winning architects, and homeowners are available for interviews. To set up an interview or request images of the homes, please contact Janèl Noblin at 203-304-3893, jnoblin(at)taunton(dot)com.)
###
About Fine Homebuilding Magazine
Fine Homebuilding is the largest and most trusted residential construction magazine in America and a nationally respected showcase of beautifully designed homes. A majority of readers are professionals who use the magazine as part of their livelihood and count on Fine Homebuilding as their building bible. Fine Homebuilding provides a range of design and construction ideas from across the country and a level of honest, practical information with a special focus on more affordable homes and projects that most people could tackle on their own homes. Fine Homebuilding is published eight times a year by The Taunton Press. To learn more, please visit Fine Homebuilding at FineHomebuilding.com, on Facebook at Facebook.com/FineHomebuildingMagazine, or follow us on Twitter at @fhbweb.
Media Contact:
Janél Noblin
203-304-3893
jnoblin(at)taunton(dot)com