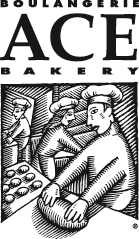 Our simple approach to baking is a perfect fit with our strategy.
Toronto (PRWEB) May 01, 2014
ACE Bakery is pleased to announce today the introduction of some of its most popular breads in Cub Foods and Jerry's Foods stores throughout the Twin Cities. This is a significant U.S. launch for ACE and offers Twin Cities shoppers wholesome and flavorful bread choices that were previously unavailable.
 
Known for working with only the simplest ingredients and for its commitment to uncompromising quality, ACE stays true to time-honored traditions such as breads made by hand and baked in stone deck ovens resulting in bread that has a deeper flavor and a moist texture, with a light interior and a crisp crust.
 
"We're honored to partner with Cub Foods and Jerry's Foods, and it is exciting to be in in the Twin Cities, an area known for its sense of taste and its sophisticated palate," said Lee Andrews, President of ACE Bakery.
 
"It's great to have ACE as part of the Twin Cities food scene. Our simple approach to baking is a perfect fit with our strategy of providing more of the simple and preservative-free products that our customers crave."
 
An iconic brand in its native Canada, ACE Bakery brings not only its well-known and sought-after breads to another North American market, but also its commitment to involvement in the communities that it serves. This is an essential part of ACE's philosophy with the company donating a percentage of its net profits to charitable organizations where ACE breads are sold.
 
The following breads are now available at Cub and Jerry's stores:
-White Baguette
-Ciabatta
-White Filone
-Rosemary Focaccia
-Roasted Garlic Oval
-Demi-Baguette
-Seven Grain Oval
-Wheat and Honey Oval
 
About ACE Bakery
One of North America's leading artisan bakeries, ACE Bakery opened in 1993 creating hand-made, European-style rustic breads. The gentle shaping of each loaf, long fermentation periods, and a stone deck oven all work to create exceptionally flavorful breads with a pleasing texture and crisp crust. The breads contain no preservatives and are made with the simplest natural ingredients. ACE Bakery's baguettes and artisan breads are available at hundreds of restaurants, hotels, caterers, grocery and gourmet food shops throughout Canada and in select markets in the United States.
Community involvement is an essential part of ACE's philosophy. The company donates a percentage of its net profits to charitable organizations in the principal markets in which ACE breads are available. ACE's focus is on food and nutrition programs that assist low-income members of the community, financing culinary scholarships and supporting organic farming initiatives.
ACE Bakery is recognized as one of the 26 top Canadian brands of all time in Ikonica: A Field Guide to Canada's Brandscape (2008). ACE's YouTube channel showcases how its breads are made.
### 
Media: For more information or to request samples or photos of ACE Bakery products please contact:
Paul Omodt Ignite Communications
952.607.9434
paul(at)ignitecom(dot)com
Marika Bower
Public Relations and Communications Specialist
ACE Bakery, Toronto, Canada
416.241.3600 x.384                                          
mbower(at)acebakery(dot)com