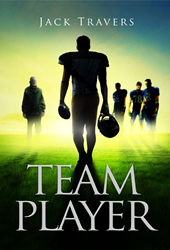 The author has a clear understanding of adolescent life and frequently addresses the moral decisions that confront young people today. Buy it for your teenager; it will give you both something to talk about. – Amazon.com reviewer
Friendswood, TX (PRWEB) May 07, 2014
As the NFL football drafts hit the news, TotalRecall Publications announces the publication of "Team Player," a new young adult novel that immerses readers in the world of high school football and the personal, team, and broader societal dramas that get played out on the field.
Author Jack Travers has taught social studies and coached high school football for 28 years in the Boston area. He understands up close and personal the eternal themes that adolescents confront as they struggle to define themselves through choices.
It took Travers two years to write the book. Coming from the traditional Boston Irish Catholic background, he chose the challenges of social class and cultural diversity as one of his main themes. "As a high school teacher and football coach in Boston, the idea for "Team Player" was a natural," he says. "The area is becoming increasingly diverse, and the Hispanic and Brazilian impact on the region (particularly north of Boston) is unmistakable. I wanted to capture the tensions and benefits of these developments. Football, as the ultimate team sport, is a great vehicle for these issues to play out."
The story opens as Kyle Donovan, a seventeen year old star running back from the wealthy and privileged suburb of Fairview, Massachusetts, is devastated when his seemingly idyllic world falls apart. The collapse of his father's computer company and the divorce of his parents force Kyle to move in with his blue collar, curmudgeonly Grandpa Butch in the gritty and ethnically diverse Boston suburb of Crandall. A tale of two cities ensues.
Football makes sense to Kyle. No matter what's happening at home or in the classroom, it's still eleven versus eleven on the field. Kyle soon discovers that that fact is true whether the games are played in Fairview or Crandall. Through football, he builds vital Crandall friendships (particularly with Eduardo Alves, Sal LoGrasso and Raymond Boursiquot) that ultimately surpass his relationships in Fairview.
Kyle's transition is tested by conflict, both internal and external. He finds himself torn between his old existence in Fairview (and his girlfriend, Ashley Novack) and his new life (Grandpa Butch, a group of loyal friends, a potential love interest in Katie O'Brien) in Crandall. A party gone wrong in Fairview represents the turning point of "Team Player."
Can his love for football, the loyalty of a new group of multicultural friends, and most importantly, the special bond between grandfather and grandson, help Kyle rise above his circumstances and understand that the ultimate value of a person is not measured by wealth and social status?
"Team Player" by Jack Travers is available in Kindle, hardcover, and paperback from Amazon.com, Barnes and Noble, Books-a-Million, and other booksellers.
Jack Travers, a social studies teacher and longtime football coach at Boston College High School, lives with his family in Lynn, Massachusetts. He holds a Bachelor of Arts and Master in Arts and Teaching from Boston College and a J.D. from the New England School of Law. As a native of Greater Boston and a twenty eight veteran of the classroom, Jack is thoroughly familiar with the themes that permeate his young adult novel, "Team Player."
TotalRecall Publications Inc. was founded in 1998 by Bruce Moran, a former NASA IT professional who transitioned into computer instruction and educational materials. The company began with the introduction of study guides and Q&A testing software for various computer and financial certification exams and expanded into library and information science textbooks in 2007. Since 2008, the publisher has been developing a fiction product line by debut authors that focuses on mysteries, thrillers, and military action. Additionally, TotalRecall has expanded into general nonfiction and now publishes more than 200 non-fiction and fiction titles, all distributed worldwide through book retailers and wholesalers and via eBook databases such as ebrary, EBSCO, and Books24x7.com. http://www.totalrecallpress.com