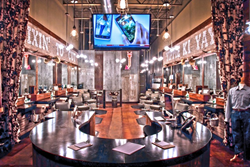 Dallas, TX (PRWEB) May 02, 2014
Cowboy Up Men's Salon, a country themed hair salon with good music, great stylists, free beer and the best customer service in Texas has announced its expansion into Southlake. Growing demand for Cowboy Up's innovative approach to delivering a unique men's grooming experience has resulted in a signed a lease at the new Park Village retail development in Southlake.
Cowboy Up offers men's and boy's haircuts done by a professional team of boot wearing female stylists in a relaxing environment, where men can kick back, have a cold beer and walk out 30 minutes later with a high quality hair cut. The salon also offers a full range of men's grooming services including their signature "Lone Star" cut, the Gully Washer facial, coloring services, shaves and an extensive product line.
"Our success in Dallas and Frisco is creating additional demand for clients across the Metroplex, and we are very excited to launch this expansion into Southlake," says owner Jeff Kissling(Chief Executive Cowboy). "Park Village is an ideal location in the heart of Southlake. We are excited to join the exclusive list of tenants in this new upscale development and we look forward to serving the local community."
About Cowboy Up Men's Salon:
Cowboy Up was founded by Jeff Kissling(Chief Executive Cowboy) in 2011 and opened its first location in Frisco, Texas, in March of 2012. Cowboy Up is all about "the experience." This Cowboy/Country themed salon, with Custom "Old School" Belmont Barber chairs, a professional team of stylists, good music and cold beer are all the best in Texas.
Contact Information:
Jeff Kissling
8837 Lebanon Rd. Frisco, TX 75034 214-417-5232
jeff(at)cowboyupcuts(dot)com
http://www.cowboyupcuts.com