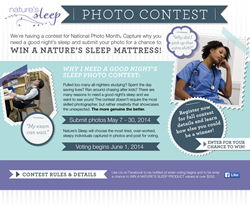 We are looking for creative photo depictions of sleepy people.
Davie, FL (PRWEB) May 06, 2014
Natures Sleep is holding a photo contest calling for entries of photos illustrating why a person needs a good night of restful, sound sleep. The lucky winner will be the recipient of restful, sound sleep, as they will take home a brand new memory foam mattress from Natures Sleep.
"We are looking for creative photo depictions of sleepy people, ranging from someone who is tired from pulling too many all-nighters to study, to another person taking extra shifts at work, to a night owl who can't seem to get to bed at a decent time," said Alan Hirschhorn, Executive Vice President of Marketing for Natures Sleep.
Natures Sleep is calling for the creative, sleepyhead photos to be sent in from May 7 until May 30, 2014. The mattress company will choose their favorite photo entries depicting why someone is so tired from too much work…or from too much play. The chosen photos will then be posted on the Natures Sleep website and the public will be allowed to vote for the one they think should win, starting on June 1, 2014.
The winning photo of the sleepy individual will be chosen via website voting at: https://www.naturessleep.com/photo-contest
"We want people to have some fun with this contest," said Mr. Hirschhorn. "We want to see creative entries that show us something unexpected. These photos do not need to be taken by a skilled photographer. The more genuine the photo looks, the better."
The contest is a new idea for the mattress company, who wanted to do something interesting to mark National Photo Month, which was originally inspired by President Ronald Reagan in 1984. Congress recognized National Photo Month in 1987. Since then, photography and photographers have been celebrated every month of May.