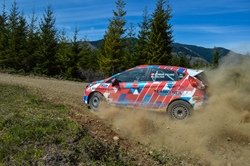 I'm really excited to help bring the Ford Fiesta ST into competition. - Team O'Neil Driver, Andrew Comrie-Picard
Dalton, NH (PRWEB) May 02, 2014
Team O'Neil Motorsports is proud to announce the debut of the first 2WD Fiesta ST to compete in the Rally America Championship. Team O'Neil and Ford have a proven track record in the past three years with the hugely popular Ford Fiesta R2 designed by M-Sport. The most substantial change over the championship winning R2 is the use of the Ford Fiesta ST turbocharged EcoBoost 1.6L engine which Team O'Neil kept the production stock engine components.
The Fiesta ST Rally Car will be debuted this weekend at Rally America's Oregon Trail Rally. During testing, the Fiesta ST has shown tremendous promise as the basis for the next evolution in the Rally America 2WD class. Oregon Trail will be an extension of the test period and allow Team O'Neil to identify further improvements needed to continue the championship pedigree of the Ford Fiesta Rally Car.
The racing community has reached out in support of the ST. Notable partners include Mountune, Mishimoto, Sadev, Vision X Global Lighting Systems, Schaeffer Specialized Lubricants, Recaro, BF Goodrich Tires, Schroth Racing, HMS Motorsport, and Hawk Performance. Team O'Neil is very grateful for the opportunity to work with each of these partners. They have all brought significant expertise in their fields and provided much needed support.
Team O'Neil decided to add to the excitement of the ST release with an all-new livery style and design. The design keeps with the Team O'Neil theme of red, white and blue but the new geometric style allows the car to stand out. Trevor Wert of Team O'Neil used inspiration from trends in all forms of automotive racing as well as current design trends around the world.
Under the leadership of Tim O'Neil (5 time North American Rally Champion and Team Owner) team driver Andrew Comrie-Picard has accepted the challenge of getting the ST to the end of the rally. "I'm really excited to help bring the Ford Fiesta ST into competition" said Comrie-Picard. "Ford already has such a competitive package with the Fiesta R2; with our win at the previous round we could just sit on our laurels and keep running that, but already we can see that the potential with the ST is enormous. The Fiesta is one of the best rally platforms out there today, and we plan to put it on the podium again." Oregon Trail is known for high speed stages and Andrew is looking forward to putting the car through its paces.
About Team O'Neil: Team O'Neil is known as the premier location to learn how to drive on loose surfaces. 5-time North American rally champion Tim O'Neil has handbuilt the roads to mimic all the situations he has come across in decades of rallying. Team O'Neil has trained every winner of the Rally America Rookie-of-the-Year award including Ken Block.
Our Partners:
Ford Racing
Mountune
BFGoodrich Tires
Hawk Performance
Mishimoto
Sadev
VisionX Global Lighting Systems
Schaeffer Specialized Lubricants
Recaro
Schroth Racing
HMS Motorsport