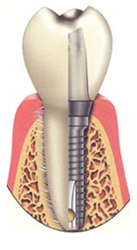 I came to StarBrite Dental to have an implant installed that was just too expensive at my former dentist. The work was done very well. I did not have any problems at all at any of the steps. - Jakob G
Fremont, CA (PRWEB) May 02, 2014
StarBrite Dental has recently seen a large increase in dental implants for patients all over the Bay Area. In order to meet the high demand, the dental practice is offering a limited time uncomplicated implant+Abutment+crown promotion for only $2,400. This offer will expire on Aug. 31.
Dental implants used to be expensive, but with the increase in applicability and availability of high-quality dental implants from various manufacturers, it has become a competitive marketplace for implant manufacturers. StarBrite Dental has negotiated a very good pricing with one of the leading Implant suppliers and is now passing that discount on to their patients.
Dental implants vastly improve patients' quality of life and are an excellent and worthy replacement for regular dental bridges. Those with missing teeth are limited to using dental bridges or living with it. Dental bridges require cutting adjacent healthy teeth in order to fit the bridge over the missing tooth. Dental implants change this.
When it comes to missing teeth, dental implants are truly the way to go. Implant dentistry can also be used for making ill-fitting dentures fit snugly and in some cases also make permanent dentures. Those who need to have an abscessed tooth extracted should always consider immediate dental implant placement as a replacement for the removed tooth.
Dr. Lokhandwala is a fellow of the International Congress of Oral Implantologists (ICOI). Fellows of the ICOI have had to demonstrate proficiency in multiple implant dentistry procedures. They have been recognized by their peers as experts in the field of implant dentistry and are expert local leaders as well as global ambassadors for the field of dental implantology. They have accepted a lifelong commitment to learning as well as to upholding and maintaining ICOI's international friendships between dental surgeons.
Having placed hundreds of dental implants, Dr. Lokhandwala is one of the leading dentists in the Bay Area who can provide this procedure and bring her expertise to ensure a successful outcome.
StarBrite Dental is a one-stop dental practice for complete dental implant treatment. All work required for the placement and completion of the dental implant procedure is conducted at the office, including the extraction of excess teeth, placement of bone and implants, attachment of abutments and preparation and placement of dental crowns on the implants.
Due to the range of work performed, StarBrite Dental has the entire stock of dental implants of various sizes and widths available for placement. This allows the doctor to place the implants on the day the patient comes in. StarBrite Dental also has its own in-house Dental 3D CBCT (CAT scan) machine. This is also convenient for patients as they do not need to go to any outside lab.
StarBrite Dental is offering a limited time special pricing on dental implants in order to allow their valued patients to have dental implants placed at a lower price.
For more information about dental implants, call 510-795-7786 or visit http://www.starbritedental.com/.
About the Company:
StarBrite Dental is a Fremont-based one-stop dental practice providing the complete range of family and cosmetic dentistry. Dr. Munira Lokhandwala and her talented team of associates and staff have some of the highest accolades and reviews in the Bay Area. The services provided by StarBrite Dental include dental implants, cerec crowns, six-month smiles orthodontics, periodontal treatment and surgery, laser gum treatment, IV and conscious sedation and pediatric dentistry. For more information about the dental practice, visit their website at http://www.starbritedental.com/.