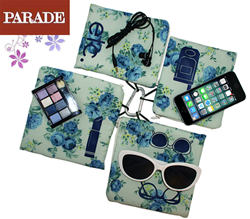 Mothers are the ultimate Multi taskers- they can get more done in 24 hours than everyone else combined!
San Francisco, CA (PRWEB) May 05, 2014
This Mother's Day, forget the usual flower bouquet or box of candy for moms. Mothers are the ultimate Multi taskers- they can get more done in 24 hours than everyone else combined! The perfect Mothers Day gift is one that will make life easier, simplified and more organized! Great Useful Stuff is excited to announce the new Mothers Day Collection for 2014. Moms will appreciate this collection of products because each item is designed to make life easier and won't break the bank.
Floral Purse Essentials ($19.99)–
Created especially for Mother's Day and Parade Magazine, the Limited Edition Floral Purse Essentials make it a snap to stay organized when switching from purse to purse, to backpack and back. Don't lose everyday staples in the bag-switch shuffle - keep everything together in the unique set of 4 zippered pouches that clip together! One pouch holds make up, one for cell phones, one for reading glasses/sunglasses and one for extras. Ready to use separately or as a set, each pouch is labeled with a simple icon for easy organization and identification. Available in four different colors combinations.
Beauty Book (Small $19.99 / Large $29.99) -
The new Beauty Book offers a unique way to store and organize collections of nail polishes, make-up or jewelry. This notebook style organizer has lots of individual mesh compartments to securely hold multiple small items separately from lipsticks to nail polishes to rings and more, so you can see what you have instead of trying to dig through a messy bag. This stunning red leatherette Beauty Book comes with a handle for travel convenience, and has a fashionable polka-dot fabric lined interior. The Beauty Book is available in two sizes - one large Book for storing collections of cosmetics, nail polishes and jewelry, measuring 24.5" L x 3" W x 13" H and one small Book for travel or daily use.
Bamboo Napkin Rings ($29.99) –
The brand new, multi-functional Napkin Rings elegantly hold napkins in place and serve as place cards for seat assignments! Go green by using the chalkboard labels for easy seating assignments and then simply wipe away names for the next soiree! Each ring measures 1.75" D x 1" W.
Bamboo Drink Coasters ($29.99)–
100% Bamboo, with chalkboard labels, the drink coasters are the perfect tabletop accessory for entertaining. Make sure to pick up one of the GUS high quality chalk pencils so you are ready to go when your coasters arrive! Each coaster measures 4.5" L x 4.5" W x .37" H
About Great Useful Stuff:
Great Useful Stuff is a specialty online retailer based in San Francisco that focuses it's assortment on making life simple, organized and clutter-free.