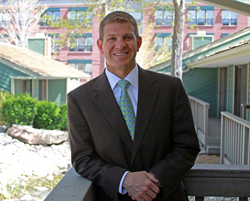 Greenwood Village, CO (PRWEB) May 02, 2014
Dr. Adam Weaver of Mountain Top Periodontics & Dental Implants is announcing of the availability of laser gum surgery for gum disease treatment prior to placing dental implants in Greenwood Village. Gum disease treatment can address this condition to enable the placement of dental implants and may even reduce the need for dental implants in the future.
Through his practice, Dr. Weaver offers a number of services to patients experiencing a wide range of problems. For the broad portion of the population that is suffering from some form of gum disease, Dr. Weaver offers several options for gum disease treatment, including the Laser Assisted New Attachment Procedure, or LANAP ®. This procedure is an effective method for the removal of infected tissue, and it is a minimally invasive procedure. Only a very small percentage of dental professionals are certified to use LANAP® nationwide, so its availability at Mountain Top Periodontics & Dental Implants is significant.
The presence of periodontal disease in the mouth may preclude some patients from receiving dental implants unless this condition is first addressed and successfully treated. Dr. Weaver can provide LANAP® to create a healthy oral environment for the future placement of dental implants to replace missing teeth. Furthermore, the need to replace missing teeth can often be reduced if periodontal disease is detected and treated early enough to prevent tooth loss.
For individuals who have already lost teeth because of gum disease or some other issue, Dr. Weaver is able to offer dental implants in Greenwood Village. The dental implants offered through Dr. Weaver's practice are considered to be the most natural tooth replacement available, especially since the implants closely mimic the structure of a real tooth. The procedure used by Dr. Weaver's practice involves the implantation of a small titanium post that needs about three to six months to integrate into the jaw. The implant also features an abutment and a crown, completing the dental implant.
Patients interested in any of the procedures offered by Dr. Weaver should call his office to schedule an appointment for a consultation. Whether a patient is in need of gum disease treatment or is searching for dental implants in Greenwood Village, Dr. Weaver may have an effective solution.
About the Doctor
Dr. Adam Weaver is a periodontist offering personalized dental care for patients in Greenwood Village, CO since 2000. Dr. Weaver attended Brigham Young University, and during that time took a two year leave to serve as a missionary for the Church of Jesus Christ of Latter-day Saints. Upon his return, he completed his Bachelor's Degree in Medical Science. He attended dental school at the University of Colorado Health Sciences Center where he received his Doctor of Dental Surgery degree. He joined the periodontal residency program at the V.A. Medical Center in Milwaukee, WI, and earned his Masters of Science degree at Marquette University. Dr. Weaver is fluent in Spanish, Portuguese, and Guarani. He is part of one percent of dental professionals providing the LANAP® FDA cleared laser procedure for gum disease and periodontal treatment. To learn more about Dr. Weaver and his dental services, visit his website at http://www.mtperio.com and call (303) 800-0120.