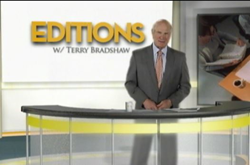 Novi, MI (PRWEB) May 05, 2014
Mastery Technologies' segment on Editions with Terry Bradshaw will air in Phoenix, Arizona on KAZ-TV "Arizona's Own." This segment focuses on topics, trends, and issues related to "Innovative Solutions to Meet Industrial Education Challenges" as part of the show's "North American Industry" series this month. Mastery's segment highlights one of its exemplary customers, Transystems LLC., and how it uses Mastery's online training courses as well as MasteryNet™ Learning Management System (LMS) to keep employees focused on safety. The segment will air at 6:30 a.m. on KAZ-TV on May 10, May 17, and May 24, 2014.
Editions with Terry Bradshaw, combs the nation and the globe to bring viewers fascinating business stories and firsthand insights from entrepreneurs across industries. The television show is broadcast nationally and regionally on many popular television networks, including FOX Business Network.
Mastery wanted to take the opportunity with Editions and highlight an exemplary customer with a proficient training program. Transystems, a Mastery Technologies customer since 2007, demonstrates how an organization can utilize Mastery's training benefits with on-the-go workers. One of the greatest benefits Transystems receives from using Mastery's online training is around-the-clock access to the system for their drivers and supervisors. Both are able to take the training or look at training records at the convenience of their work schedule.
Transystems is a bulk commodities transportation company specializing in hauling sugar beets across the Midwest and Western United States. Transystems trains almost 1150 employees with Mastery's online safety training and manages it with the MasteryNet™ LMS. Drivers combat the risks associated with professional driving, from driving distractions to dealing with the hazards of winter weather. The company has adopted a motto stating; "safety – families depend on it," which embodies the commitment it has in making safety a top priority in the workplace. Employing Mastery Technologies as its online training resource allows Transystems to make a safer work environment, with low hassle training implementation, all at a truly affordable cost.
About Mastery Technologies Inc.
Mastery Technologies established the e-learning industry's first Training Content Network. Mastery partners with leading video content providers to co-produce the largest, standardized, workplace e-learning library available. Mastery goes beyond connecting customers with content, by pro-actively supporting both customers and content partners. In this way Mastery fulfills its mission of helping build more successful, effective and amazing organizations.