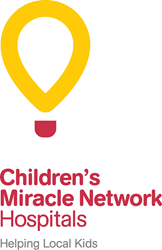 "Whether out doing errands or enjoying a TV show, we encourage folks to Put Their Money Where The Miracles Are when they spot the yellow and red 'Miracle Balloon' this season." - John Lauck, president and CEO of Children's Miracle Network Hospitals
Salt Lake City, UT (PRWEB) May 02, 2014
Miracle Balloons and special offers have taken off at several major retailers this month, each with the opportunity to help save and improve kids' lives treated at 170 Children's Miracle Network Hospitals®.
The charity — which raises funds for hospital treatment, equipment and programs — is celebrating the call to local giving by declaring May as a "Month of Miracles" across North America.
"Whether out doing errands, shopping for clothes or enjoying a TV show, we encourage folks to put their money where the miracles are when they spot the yellow and red 'Miracle Balloon' this season," said John Lauck, president and CEO of Children's Miracle Network Hospitals. "Many of our corporate partners are using this time of year to heighten fundraising efforts and bring awareness to the year-round need of children's hospitals. Every donated dollar will help provide critical medical care to local kids at the nearest member hospital."
The following outlets are raising funds through Miracle Balloon sales at the register and through other opportunities. Visit http://www.mayisformiracles.org to discover why giving to local hospitals is important, and to learn about all offers and fundraising opportunities during May is For Miracles.

Walmart and Sam's Club: May 1 – June 11
Costco Wholesale: May 1 – 31
Rite Aid: through May 24
Chico's FAS: May 1 – June 30; Special offers on certain goods
Speedway: May 1 – June 1; Partial proceeds from all fountain drinks and Speedy Freeze purchases also benefit local member hospitals.
Publix Super Markets: May 22 – June 13
###
About Children's Miracle Network Hospitals:
Children's Miracle Network Hospitals® raises funds and awareness for 170 member hospitals that provide 32 million treatments each year to kids across the U.S. and Canada. Donations stay local to fund critical treatments and healthcare services, pediatric medical equipment and charitable care. Since 1983, Children's Miracle Network Hospitals has raised more than $5 billion, most of it $1 at a time through the charity's Miracle Balloon icon. Its various fundraising partners and programs support the nonprofit's mission to save and improve the lives of as many children as possible. Find out why children's hospitals need community support, identify your member hospital and learn how you can Put Your Money Where the Miracles Are, at CMNHospitals.org and facebook.com/CMNHospitals.