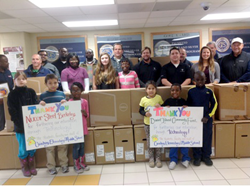 This is a true community-wide, community outreach effort: Property owners, many island businesses and non-profit organizations coming together to generate the resources and facilitate the programming to serve the needs of our communities.
Charleston, S.C. (PRWEB) May 06, 2014
Fifteen years ago, the Daniel Island Community Fund (DICF) was created as a means for building an endowment to help fund community improvements and initiatives. Since then, the private 501(c) 3 organization, which is funded by a transfer fee on all island resale transactions, has established a model for giving back that has distributed a total of more than $1.4 million to support not only community improvement initiatives on Daniel Island, but also charitable initiatives supporting its neighboring (and often under-served) communities as well. In 2013 alone, more than $400,000 was distributed for wide-reaching programs that serve needs in the greater area.
The Daniel Island Community Fund is different from the majority of other transfer-fee based community funds across the country. While about 40% of master planned communities in the United States have a community fund and use the funds generated to supplement the programs, operational budgets and reserves of their property owners' associations, only approximately 2% of those communities use the fund for charitable projects, according to a study conducted by the Community Associations Institute.
In contrast, the Daniel Island Community Fund directs the majority of its funds – 68% in 2013 – to help area nonprofit organizations provide services and programs for those in need within the community and beyond. The DICF has identified a focus for its giving activities that includes education, human services, housing rehabilitation and emergency repair, nature, the environment, heritage and culture, municipal park improvements and community-led initiatives on Daniel Island and the surrounding and often under-served communities of Cainhoy, Huger and Wando.
"Daniel Island has established a strong tradition of giving back to its neighbors in the region in far-reaching ways, and we are so proud to be able to make a significant impact and help give back to our community," says Jane Baker, Vice President of Community Services for the Daniel Island Property Owners' Association and Administrator for the Daniel Island Community Fund. "Our Community Fund has essentially become a grant making organization that helps the Lowcountry's outstanding non-profit organizations administer their programs in our communities."
Grants directed by the DICF to non-profit organizations in 2013 totaled more than $364,000. Twenty-five charities – including Operation Home, Junior Achievement, Windward Farms, Young Life, Cainhoy School, Daniel Island School, East Cooper Community Outreach, the Center for Heirs Property Preservation, Charleston Police Fund, East Cooper Meals on Wheels, East Cooper Land Trust, the Gullah Society, Golfers for Education and many more – received funding for a diverse array of services and programs. Each quarter grant requests are reviewed and approved by the DICF's resident-led board.
"This is a true community-wide, community outreach effort," says Baker. "Property owners, many island businesses and non-profit organizations coming together to generate the resources and facilitate the programming to serve the needs of our communities."
So far in 2014 the DICF has contributed to seven emergency home repair projects for the needy through Operation Home, assistance for the Children's Museum of the Lowcountry, transportation services for Cainhoy community families in need (in partnership with the Palmetto Project's "Families Helping Families" initiative) and programming support for the Daniel Island Historical Society.
With just a small portion of each year's budget dedicated to community enhancements on Daniel Island, the DICF is careful to choose what initiatives to undertake, and often works with reputable non-profit organizations to most effectively implement those projects. Community enhancement initiatives on Daniel Island in 2014 will include the planning and construction of a Memorial Garden in the heart of downtown Daniel Island that will honor residents who have passed away (being undertaken in partnership with Daniel Island Rotary and the City of Charleston), and the creation of a labyrinth in downtown Daniel Island.
"We have just two community enhancement initiatives planned for 2014," says Baker. "The rest of our budget for the year will be distributed in the form of grants to non-profit organizations."
Non-profit organizations that serve the greater Daniel Island and Cainhoy, Wando and Huger communities can submit grant requests to the Daniel Island Community Fund by downloading the DICF grant application online at http://www.dicommunity.org/resourcecenter.
About Daniel Island:
Located within the City of Charleston, Daniel Island is a 4,000-acre island master planned community featuring traditional neighborhoods, award-winning golf and tennis facilities and an outstanding collection of amenities in a self-contained island town setting. The island's downtown is home to schools, churches, medical offices, boutiques, restaurants, banks, a supermarket, two professional sports stadiums and many other attractions and conveniences. Twenty-three miles of rivers and creeks, hundreds of acres of parks, leisure trails and a private country club provide endless recreational options, and the community's central location within Charleston puts it within a 20 minute drive of the city's famous downtown historic district, area beaches and airport. A highly-desirable residential and recreational destination within Charleston, Daniel Island has been honored with numerous accolades including a prestigious "Award for Excellence" by the Urban Land Institute. The island's development and sales activities are managed by DI Development Company.