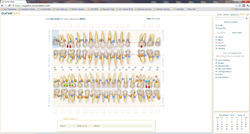 This new integration provides a significant benefit to our customers and their patients.
Orem, UT (PRWEB) May 04, 2014
Curve Dental, developers of cloud-based dental software, today announced that participating providers can offer and initiate the application process for the CareCreditSM healthcare credit card directly within the Curve Dental program.
The CareCredit healthcare credit card can be used to manage out-of-pocket healthcare expenses with more than 175,000 enrolled providers. When seeking dental treatment, some patients may choose CareCredit as a payment option for certain expenses not covered by insurance or to bridge situations when desired care exceeds insurance coverage.
"Many Curve Dental customers are also enrolled with CareCredit," said Ian Zipursky, president and COO of Curve Dental. "This integration simplifies the application process, providing an improved patient experience."
The CareCredit application icon is located in the recommended treatment area of the Curve Dental software, where the doctor reviews treatment and payment options with the patient. At the patient's request, the CareCredit application can be completed and submitted within minutes. Patients receive credit decisions almost instantly and are given their account number and available credit so they have an immediate way to pay for care.
"This enhancement is a significant benefit to our customers and their patients," said Zipursky. "Curve Dental is delighted to work with CareCredit on providing a more seamless experience within our software program."
About Curve Dental, Inc.
Founded in 2004, Curve Dental provides web-based dental software and related services to dental practices within the United States and Canada. The company is privately-held, with offices in Orem, Utah and Calgary, Alberta. The company strives to make dental software less about computers and more about the user experience. Their creative thinking can be seen in the design of their software, that's easy to use and built only for the web. Dentists can call 888-910-4376 or visit http://www.curvedental.com for more information.
About CareCredit
For over 25 years, CareCredit, a healthcare credit card, has made it easier for patients to get the dentistry they want, when they want it. CareCredit is accepted by more than 175,000 enrolled healthcare practices and has been used by millions of patients. CareCredit is exclusively selected by many state and national dental organizations and leading practice management educators. For more information on CareCredit, call 800-300-3046 or visit http://www.carecredit.com.