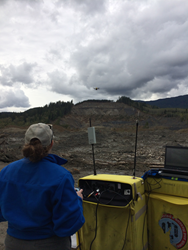 "The Incident Management Team, Roboticists Without Borders, and our Field Innovation Team came together to bring forward-leaning technology to innovate real-time in the mudslide."
(PRWEB) May 05, 2014
A small unmanned aerial system (UAS) was utilized to perform a groundbreaking robot-assisted mission in support of the Incident Management Team responsible for leading incident response at the Oso, WA mudslide disaster. The Roboticists Without Borders program at the Center for Robot-Assisted Search and Rescue working in partnership with the Field Innovation Team (FIT), brought UAS teams from the Texas A&M Engineering Experiment Station, Insitu, and PrecisionHawk to survey a portion of the mudslide and river that could not be accessed or viewed through traditional methods. The AirRobot quadrotor UAS captured visual data, which was processed with PrecisionHawk's PrecisionMapper photomapping software. The software generated an interactive, color, 3D reconstruction of the terrain as well as 2D mosaics. The Incident Command's Engineering Branch is using the model for reconstruction and recovery.
The interactive 3D model provides high-resolution, 5 cm per pixel imagery of the mudslide topography. It gives engineers a comprehensive view of the mudslide and river flooding they did not have before the robot flight. An aerial view of inaccessible spaces "protects first responders because we don't have to go into dangerous spots just to find out what's there," says Norman Skjelbreia, Disaster Specialist and Engineer with Incident Command.
The AirRobot UAS flew at the direction of the Incident Management team under an emergency COA from the Federal Aviation Administration. 40 acres of the mudslide "moonscape" was captured during 48 minutes of flight time with a Canon digital camera fixed to an AirRobot 100B UAS. The first 3D reconstruction was available in a quick 30 minutes using PrecisionHawk's PrecisionMapper software, running on a laptop. A higher resolution reconstruction was completed in 3 hours later that day, with additional images collected from more flights. The Insitu Scan Eagle and PrecisionHawk Lancaster platforms did not fly. Dr. Robin Murphy, Director for the Center for Robot-Assisted Search and Rescue at Texas A&M University explains, "This is revolutionary. It shows that the responders can gather and visualize data about the site in real-time for themselves, without waiting days to get critical information from other agencies."
All photos and videos collected during the mission, and the 3D reconstruction were given to the Incident Management Team on site, and the Washington State Hydrologist Engineer at the Washington State Department of Transportation. "After giving the data to WSDOT, they immediately recognized other ways they could use this type of technology to support their hydrology projects," says Frank Sanborn, FIT member who personally delivered the files.
Desi Matel-Anderson, CEO of FIT says, "The Incident Management Team, Roboticists Without Borders, and our Field Innovation Team came together to bring forward-leaning technology to innovate real-time in the mudslide. This is what it's all about. An incredible team expediting assistance in recovery efforts."