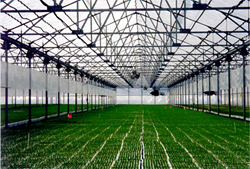 Mobile, AL (PRWEB) May 05, 2014
Sun scald and high temperatures damage tender indoor or greenhouse raised plants. To eliminate the threat of such damage growers must reduce strong ultraviolet sun rays and turn down summer heat. These can be expensive tasks depending on outside environmental conditions. While there are many cooling techniques available today, the most economical way is for horticulturists to optimize natural ventilation with the simultaneous use of shade cloth. The experts at Gothic Arch Greenhouses, a family owned and operated business for nearly 70 years, have got you covered with all the latest technologies, materials and energy efficient designed do-it-yourself greenhouse kits to ensure a healthy summer growing season.
The first step to cooling is blocking solar radiation, those nasty ultraviolet (UV) rays by providing shade. The second, and just as important thing needed for cooling is ventilation or air movement. The simplest, easiest, most affordable way to remove hot stale air is to increase natural ventilation and then create shade through the use of shade cloth. It's like providing a good shade tree for your plants. In nature, a tree's leaf canopy deflects direct sun rays leaving it cooler under its welcoming branches. Add to the tree a good breeze, and even a hot day can be made tolerable. In the greenhouse or commercial setting where sun-sensitive crops like tomato can suffer quickly from sun and heat stress, shade trees of course, aren't plausible, but Gothic Arch Greenhouses can set you up with the next best thing - high quality, affordable shade cloth to fit your individual need.
"There is a direct correlation of shade cloth use working to assist existing ventilation and/or evaporative cooling systems in maintaining tolerable temperatures within the greenhouse space," according to William H. "Buzz" Sierke, third generation president of the Gulf Coast based greenhouse business. "Simply put, the horticultural application of shade cloth is to knock down the intensity of solar radiation. This in turn helps the ventilation and evaporative cooling systems to be more efficient in maintaining the inside air temperature within ideal parameters for optimum plant growth. This, of course, saves money."
By far though, "Aluminet" is the most popular reflective shade cloth available on the market today, according to experts. A special knitted screen, Aluminet shade cloth provides from 30% to 70% shade making it versatile for use over greenhouses, vegetables and even people. Sierke explains the material is made from metalized HDPE that acts as a mirror, reflecting rather than absorbing harmful UV rays. Among its many features, Aluminet shade cloth administers maximum radiation reflection on both sides, day and night; increases light diffusion therefore reducing heat inside any structure and is highly resistant to UV degradation.
When used correctly, mounting shade cloths externally over a structure or plant area gives growers the ability to effect internal conditions. Sierke says there are many types of covering materials available designed to control Near Infrared Radiation (NIR) while permitting Photosynthetically Active Radiation (PAR) which is necessary for plant-life giving photosynthesis. He says there are various shade ratings and levels of ultraviolet absorption in the shade cloth. There is ultraviolet stabilized polyethylene, infrared absorber polyethylene, single or double layered polyethylene.
Like the cooling of the breeze mentioned earlier, the rate of air movement is proven to directly influence the ventilation rate inside a greenhouse. A greenhouse that provides continuous roof and side openings will of course, allow for more natural exchange between hot inside air and cooler outside air. Not only does this lower temperature but also reduces humidity levels that can build inside the structure. It's recommended that your total area of vent openings should be 15-30% of floor area.
Not all greenhouses are designed equally however. And, knowing what covering to use to keep plants from direct sun and keeping them cool in the hot summer months ahead can be a challenge. If its shade cloth, ventilation fans, vents, thermostat controls or other greenhouse coverings, the friendly, experienced staff at Gothic Arch Greenhouses has you covered so your greenhouse will provide its full summer service in an easy ways that won't break your bank.