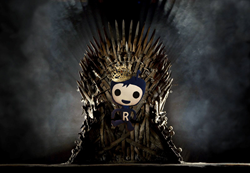 "We are responding to a measured audience demand for deep content about this show. Ranker has content on thousands of topics, but this is one that our users really like to go deep and nerd-out about."
Los Angeles, CA. (PRWEB) May 05, 2014
Ranker.com, a platform that produces thousands of crowdsourced answers to opinion-based questions, just launched Ranker of Thrones, an engaging internet hub dedicated entirely to HBO's hit series, "Game of Thrones." The microsite features episode recaps, votable lists, memes, photo slideshows and interactive content, like this morbidly fascinating Game of Thrones Death Pool. In less than 24 hours, Ranker of Thrones' votable lists racked up over 16,000 votes through the Facebook page alone.
Just how much is there to say about a fantasy television series? A whole lot, it turns out. From uber-granular lists, like The History of Westeros and Its Cities, to polls with mass-appeal, like The Best Game of Thrones Characters, Ranker is expecting to cover every possible angle of the popular show. Currently, there are nearly 50 pieces of Games of Thrones-focused content on the site, with an expected growth of 10-15 new lists published a week throughout the run of the series.
"We are responding to a measured audience demand for deep content about this show," Senior Editor Elise Hennigan says. "Ranker has content on thousands of topics, but this is one that our users really like to go deep and nerd-out about."
Ranker users' love for Game of Thrones is representative of a larger national trend: there is a broad, deep interest in the show that networks haven't seen for quite some time. April 2014's Season 4 premiere of the show garnered 8.2 million viewers, and now ranks as HBO's most watched telecast since the series finale of the Sopranos in 2007. Nearly 2 million tweets that mention "Game of Thrones" have been published in the past 30 days—indicating that viewers are looking for ways to interact not only with the show, but with other fans.
Through the launch of this everything 'Game of Thrones' hub, Ranker is hoping to appeal to both Game of Thrones superfans, who know everything there is to know about the Seven Kingdoms, and casual fans who have flocked to the show en masse. Ranker believes that both ends of the spectrum surf the web looking for a Game of Thrones fix between episodes. And while the HBO show airs for only one hour, once a week, Ranker of Thrones is open for browsing and interaction 24 hours a day, every day of the week.
About Ranker:
Ranker.com, a Quantcast Top 200 destination doing 275 million+ monthly pageviews, collects millions of monthly user opinions that have been independently validated to predict real world outcomes such as retail food sales, movie box office receipts, and celebrity mortality. Ranker has built out a platform for crowdsourcing the most credible answers (validated against traditional polling) to a broad selection of opinion-based questions. Additionally, Ranker's technology powers polls on over 2000 websites via a distributed widget.