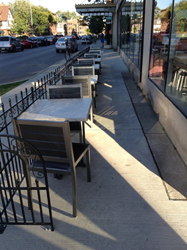 Indianapolis, IN (PRWEB) May 05, 2014
Leading commercial furniture distributor Restaurant Furniture Supply recently helped the Thirsty Scholar Coffee, Beer and Wine Bar with their grand opening by supplying them with patio furniture.
Located in the Penn Arts building at 16th and Pennsylvania in downtown Indianapolis, the Thirsty Scholar is a coffee cafe and bar that serves beer, wine desserts, hoagies and appetizers. The owners wanted to create a bohemian art deco motif. The cafe also has a European café, 20's speak easy style. The café and bar is housed in a 900 square foot space and features a historically designed bar, marble top, a classical checkered floor and restored light fixtures. Outdoor seating is also available when weather permits on the patio in front of the café.
"The owner contacted to Restaurant Furniture Supply for new chairs because of their reputation for high quality at competitive prices," explained sales person Zach. "He decided to go with Restaurant Furniture Supply's Plas Teak Patio Chair in dark walnut finish and Werzalit Table Tops."
Plas Teak looks and feels just real teak and is more durable. It is weather resistant and maintenance free, unlike real teak, which requires special care. Matching Plas Teak Table Tops are also available. The modern looking Plas Teak restaurant chairs are made with a powder coated frame with a silver vein finish. They also come in a natural teak finish. Restaurant Furniture Supply sells the Plas Teak Chairs for $60.
The Werzalit Table Tops are made of a high condensed core material. The form-pressed construction offers highest stability while automatically making it moisture resistant. The tops are water & UV-Resistant and ideal for outdoor usage. They come standard with a 2 year warranty and available in 12 different colors. The Werzalit Table Tops come in round and square shapes. The prices on Restaurant Furniture Supply's website for Plas Teak Chairs start as low as $49. The owner also purchased X-prong table bases which are sold separately for $24.
"The Plas Teak Chairs and Werzalit Table Tops were a natural choice for the Thirsty Scholar. As a business that experiences heavy customer traffic, the owner knew he would need chairs and table tops that would look great and would be durable, stand up to heavy usage and be weather resistant," Zach remarked. "Also, he liked that the chairs are made from recycled plastic yet look and feel like real teak."
All of Restaurant Furniture Supply's furniture is tested and certified by BIFMA, the Business Institutional Furniture Manufacturers Association.
Browse Restaurant Furniture Supply's full selection of commercial grade chairs, bar stools, table tops, table bases, booths and patio furniture at http://www.restaurantfurnituresupply.com or talk to a customer service representative at (888) 346-9992.
The Thirsty Scholar is located at 111 E. 16th St. in Indianapolis, IN. They can be contacted at: (317) 602-3357