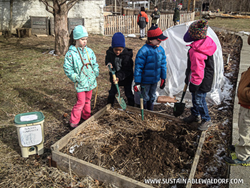 We are very proud of our green school status and will continue our steadfast commitment to the blossoming green education movement for years to come. Michel Anderson, WSB Ecoliteracy Coordinator
Baltimore, Maryland (PRWEB) May 05, 2014
The Waldorf School of Baltimore (WSB) has achieved recertification as a 2014 Maryland Green School, an award winning program founded in 1999 by The Maryland Association for Environmental and Outdoor Education. Recognition as a Maryland Green School is a significant accomplishment and exemplifies Waldorf School of Baltimore's whole school commitment to environmental literacy for staff, students and the community.
Since its inception in 1919, Waldorf Education has been inherently committed to developing the human being's capacity to stand in right relation to the Earth – its overarching goal is to nurture freethinking ethical beings with the confidence to meet modern society's challenges with depth and imagination. Today, Waldorf Education is a global movement with over 1,000 Waldorf schools in over 60 countries. Waldorf's unique humanistic approach to pedagogy is based on the work of Austrian philosopher Rudolf Steiner, the founder of Anthroposophy and Biodynamic agriculture – so it is no coincidence that Waldorf Education methods are deeply tied to an eco-centric worldview.
In the 2013-14 school year, the Waldorf School of Baltimore officially adopted an Environmental Science & Sustainability program into its curriculum – each middle school grade generally spends two hours in the morning for three consecutive weeks with experiential ecoliteracy lessons that focus on transportation, water and plants. WSB's ecoliteracy efforts also include: Building a willow tunnel and timber-frame playhouse on the school playground; Student Council school-wide TerraCycle campaign; Utilizing completely biodegradable dishware, composting and recycling stations, and partnerships with Whole Foods and Waste Neutral for virtually waste-free private and public events; School grounds certified by BayWise and the National Wildlife Federation; Gardening efforts awarded by the Maryland Master Gardener Association; and Completely pesticide-free landscaping practices to ensure the optimum health of students and top-bar honeybee colony.
To learn more about what makes Waldorf School of Baltimore an official Maryland Green School, view the summary of WSB's ecoliteracy efforts. The mission of the Waldorf School of Baltimore is to educate and inspire children to think, feel, and act with depth, imagination and purpose.