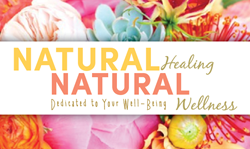 The cover story provides tips how to handle the physical demands of yard work and grow a great garden with less aches and pains.
Rhinebeck, NY (PRWEB) May 05, 2014
The latest issue of Natural Healing, Natural Wellness is now available to the public online, free of charge. Now in its fifth year and published by Topical BioMedics, Inc., Rhinebeck, NY, the quarterly e-zine focuses on ways individuals can live healthy, wholesome, vibrant lives. It features informative articles and tips from experts in such diverse areas as nutrition, green living, fitness, lifestyle, reflexology, aromatherapy, dream work, and other disciplines, as well as insights from Lou Paradise, the company's president and inventor of its line of Topricin natural pain relief formulas. The e-zine can be accessed on the homepage of the company's website, http://www.topricin.com.
With the onset of warm weather and the beginning of gardening season, the cover story provides tips how to handle the physical demands of yard work and grow a great garden with less aches and pains.
Other contributors to the spring 2014 issue include:
-- Elyn Jacobs, who is a breast cancer survivor, professional cancer coach, radio talk show host, and executive director for the Emerald Heart Cancer Foundation. In her "Options for Life" column, she discusses caring for your "inner garden."
--Annie B. Bond, author and green living expert, provides recipes for nontoxic garden pest sprays.
--Massage therapist and aromatherapist Joan Apter provides tips for using essential oils on pets.
--Radio talk-show host and certified dream work facilitator Doug Grunther reveals the archetypes in dreams and their purpose.
--Former pro body builder, celebrity fitness trainer, and massage therapist Laurie Towers offers advice for working out during pregnancy.
--In "Solutions to a Weighty Problem, Roufia Payman, nutritionist at Northern Dutchess Hospital, Rhinebeck, NY, explores obesity in American and how families and turn the epidemic around. She also shared a recipe for her light and elegant herbed ricotta soufflé.
--Investigative reporter and international astrologer Eric Francis provides insights on why we need to be concerned about Fukushima Radiation.
--Author, chef, and nutritional counselor/lifestyle coach Alexandra Jamieson confesses how she indulges her cravings, and why.
--"Quickie Chick" Laurel House provides details for packing the perfect carry-on bag.
--"Natural Medicine Woman" and international author Dr. Michelle Schoffro Cook offers 11 detox tips for a super spring cleanse.
-- In Real Reflexology, Debbie Burklund explains the differences between the European and American techniques.
Patricia Martin, managing editor of Natural Healing, Natural Wellness, announces the publication is pleased to welcome new columnist Leah Guy, who contributes the "Modern Sage" column. "A tremendous resource of health and wellness information, Leah "A Girl Named Guy' is a renowned TV personality, media producer, health educator, workshop leader, keynote speaker, and author," says Ms. Martin. "We are delighted and honored to have her join our team."
In addition, the Spring 2014 issue features special guest columnist Vani Hari, "The FoodBabe," who is an influential food blogger, respected investigative reporter, and activist for healthy food and food industry transparency. "Just in time for our spring cleanses, Vani shares her expert tips for avoiding common juicing mistakes," says Ms. Martin.
The public is invited to subscribe to Natural Healing, Natural Wellness, free of charge. For more information and to access the current newsletter as well as archives, visit http://bit.ly/nhnwspring2014 .
ABOUT TOPICAL BIOMEDICS:
20 years in business and a Certified B Corporation, Topical BioMedics is the research and development leader in topical patented natural biomedicines for pain relief. The company's flagship product, Topricin® Pain Relief and Healing Cream, was introduced in 1994 and is now a leading natural therapeutic brand. A combination biomedicine formula, Topricin has been awarded a patent for the treatment of pain associated with fibromyalgia and neuropathy, and was listed among the Top 100 Green Products of 2012 by Healthy Holistic Living.
The Topricin family of natural healing products also includes Topricin Foot Therapy Cream, specially formulated to treat painful foot and ankle issues and conditions, and Topricin for Children, which received the Parent Tested Parent Approved Seal of Approval (with 5% of sales donated to pediatric cancer foundations). Made in the U.S.A., all Topricin products are federally-regulated over-the-counter medicines with no known side effects, no parabens, petroleum, or other harsh chemicals, no grease, and no odor.
Topricin is available in independent pharmacies, natural food and co-op stores nationwide, including Whole Foods, Sprouts, Pharmaca, The Vitamin Shoppe, Fred Meyer, Wegmans, CVS (Foot Care Section), Walgreens (Diabetic Section), and other fine retailers, as well as directly from the company.
For more information, visit http://www.topricin.com.
###